Exclusive interview with Gwenaëlle de la Roche, Group Director of Marketing and Prospective at ManpowerFrance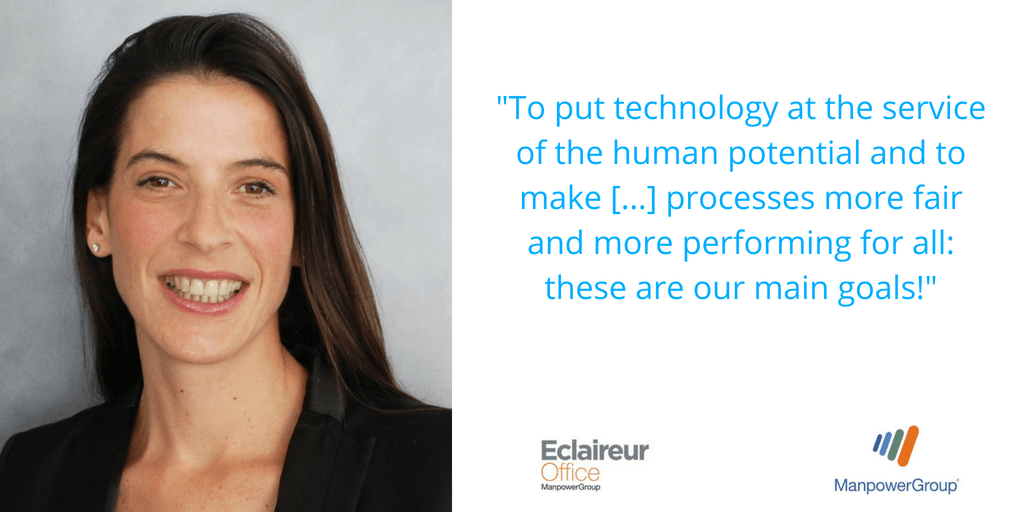 We sat down with Gwenaëlle de la Roche, Group Director of Marketing and Prospective at ManpowerFrance. She also manages "Eclaireur Office", the Group's open-innovation unit, created in December 2015.
The Coorpacademy Team will be at the ManpowerGroup Lab during the two days dedicated to BtoB at the VIVA Tech trade show in Paris, on May 24th and 25th.
Hello Gwenaëlle de la Roche,
Thanks for meeting us!
This year again, you're the HR partner of the VIVA Tech tradeshow which will take place in the Paris Parc des Expositions on May 24th, 25th and 26th… Why is that important for you – a major HR actor – to be present at this type of events, dedicated to innovation and technology?
For the 3rd year in a row, ManpowerGroup is the HR Partner of VIVA Technology. Expert in Human Resources and in employment for more than 60 years, Manpower Group aims at making the HRevolution that is transforming the corporate world an opportunity for each individual and each company.
The work market and jobs are changing, so how can we anticipate now the evolutions of recruitment and the jobs and skills transformation, so that anyone can find jobs in more easier ways?
We think that technological innovation is key and needs to be at the service of companies, but also employees, whom skills are to evolve during the whole course of their lives.
To put technology at the service of the human potential and to make evaluation, learning and recruitment processes more fair and more performing for all: these are our main goals!
What will you display at this 3rd VIVA Tech edition?
For  VIVA Technology 2018, the ManpowerGroup Lab will welcome large companies and startups, actors from the employment market, innovative entrepreneurs and experts of the future of work. HR innovations, customer feedbacks, case studies, talks: the Lab will be a privileged place for meetings and discussions around HR and employment.     
And we'll also present a series of major HR innovations: an interview platform with a virtual recruiter, a sensibilization to the construction and public works in virtual reality or even soft skills evaluation modules that'll be 100% digitized.
To discover all these ManpowerGroup's innovations that'll be showcased for VIVA, please visit the website: http://vivatech-manpowergroup.fr/ 
Why did you invite startups in your Lab?
With the creation of "Eclaireur Office", its open-innovation unit, ManpowerGroup wanted to take a broader view, rethink its organization and transform its relationships with its service providers to make them partners, starting with startups. It does then make complete sense, since the first edition of Viva, to welcome startups we collaborate with in a shared value creation dynamic. Our partnership also aims at facilitating their access to the market, to our customers, which are large companies.
What opinion do you have on the French HR / Training startup scene?
The HR market is going through a huge revolution. A whole generation of entrepreneurs is disrupting the big employment machine and is committed to transform it from top to bottom. For ManpowerGroup, the idea would be to meet them and to integrate them into an innovation ecosystem which will be unique in France. By associating the startups dynamism and the large companies experience.
How have you been introduced to Coorpacademy?
We're facing disrupting times, and we needed to work on our own transformation. We understood that nothing would be possible without the transformation of our own management, in depth. Following that idea, we launched the project "Leader Effect", a transformation program for ManpowerGroup's 85 top managers – for them to become connected leaders. Thanks to the work of our innovation unit "Eclaireur Office", we rapidly identified Coorpacademy as the reference in digital learning to accompany us on creating courses on digital culture. The partnership with Coorpacademy has been very structuring to meet our goal: making our Group a learning company!
What type of collaborations are you setting up with startups which integrate the open-innovation unit of ManpowerGroup "Eclaireur Office"?
These collaborations can take many forms. From a classical relationship of privileged commercial partner to the development of a shared offering, from a "sponsor" through events like VIVA or our challenges, to HR initiatives, mentoring and reverse mentoring – for example.
See you soon Gwenaëlle de la Roche, and thanks for this interview!