The Skills Gap And What It Means For The 21st Century Financial Services Worker – an article from Jean-Marc Tassetto, co-founder of Coorpacademy, in Finance Derivative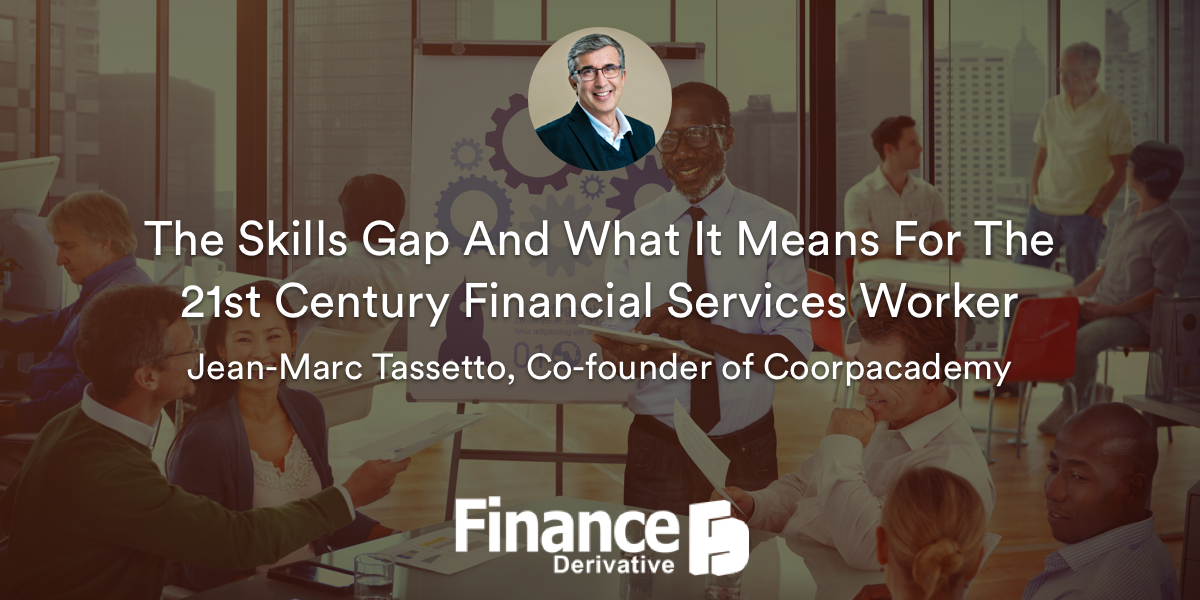 Coorpacademy's Jean-Marc Tassetto discusses the importance of cultivating soft skills and how financial services firms like BNP Paribas are leading the way in upskilling and reskilling their employees.
This article was originally published in Finance Derivative, a global financial and business analysis magazine, published by FM.Publishing. It is a yearly print and online magazine providing broad coverage and analysis of the financial industry, international business and the global economy. Finance Derivative brings the latest News & Analysis from the finance world and corporate excellence. The magazine targets an audience of finance professionals, and corporate and private investors.
You can find the original article here!
Here are some extracts of the article:
"More and more experts tell us that soft skills in particular will end up in greater demand, in contrast to skills more reliant on fact-retention. Soft skills-based occupations may account for two-thirds of all jobs by 2030, according to Deloitte, while the Manpower 2018 Talent Shortage Survey underlines how transferable soft skills are gaining greater importance – with more than half of employers saying communication skills, both written and verbal, are their most valued employee attributes, followed by collaboration and problem solving.
The World Economic Forum's recent Future of Jobs study says creativity is one of the top three skills workers will need and while robots may help us get to where we want faster, they cannot as yet be as creative as homo sapiens."
[…]
"The financial services sector is not exempt from these trends. After all, superior customer service is quickly becoming an increasingly important competitive differentiator in the financial services field. That means that the development of soft skills such as empathy, emotional intelligence, motivation and effective communication can help brands elevate customer interactions and the customer experience overall. Financial services organisations may also overcome many of the obstacles limiting their growth by cultivating leaders with a strong set of key 'human' skills that can help them engage workers in digital transformation initiatives. A June article in the FT argues that ethics and navigating ethical dilemmas will also take centre stage as an important skill for future finance leaders, for instance."
[…]
Making corporate learning relevant again.
"Learning and having fun are a good way of starting to encourage the development and practice of soft skills, as play and learning are both based on the desire to progress, to work with others and to have a social experience. Neuroscience has also shown us that playing stimulates curiosity and the desire to progress, for example, and play creates a congenial learning experience. Constant upskilling in things closely related to our daily job activities is a natural human goal to desire that we should be capitalising on.
To be successful, a modern workplace learning experience in the financial services universe should be deeply integrated with a job position and be directly useful to the learner. Modern workplace learning methods like microlearning are a powerful way to make this happen, for example, and this is an approach that can be easily integrated into the learning experience, allowing the employee to dynamically look for the knowledge she needs in situ. At the same time, the contribution of wider communities of learners can encourage uptake, as the ability to interact and measure up to others increases learning capacity.
 One customer of ours has achieved this. BNP Paribas Asset Management employs these modern e-learning techniques, including pedagogical videos, online learning modules and games on digital platforms deployed across the entire network worldwide to update the skills of its workforce and to keep its advisors fully up-to-date on its suite of financial products."
[…]
"For an approach that puts the user centre stage, user support is everything. Some comments HR at the bank has received suggest it's doing this right: "The platform is user-friendly thanks to the battles, much better than traditional online learning;" "Very clear, the videos are graphically pleasing, and just the right length;" "A way of revising that is quick and efficient, very succinct content, a congenial platform."
As a result of the kind of seismic drivers of employment change taking place in all industries including financial services, it is becoming more imperative that we all manage our long-term employability. Businesses that don't equip their workforces with the tools to help will not be able to compete – shrinking, or even disappearing, as disruptive new players better prepared to help their teams develop the skills they need will take their place. Don't let that happen to you."
Discover the full article here!
You can also discover other articles from Jean-Marc Tassetto in the press!
Why acquiring soft skills is not as hard as you think – RealBusiness
Let's start using a whole new class of meaningful HR KPIs – HRReview
How to Stop Worrying About a Jobless Future? – Bdaily Business News