1 000 000 de Battles ont été jouées sur l'ensemble des plateformes Coorpacademy !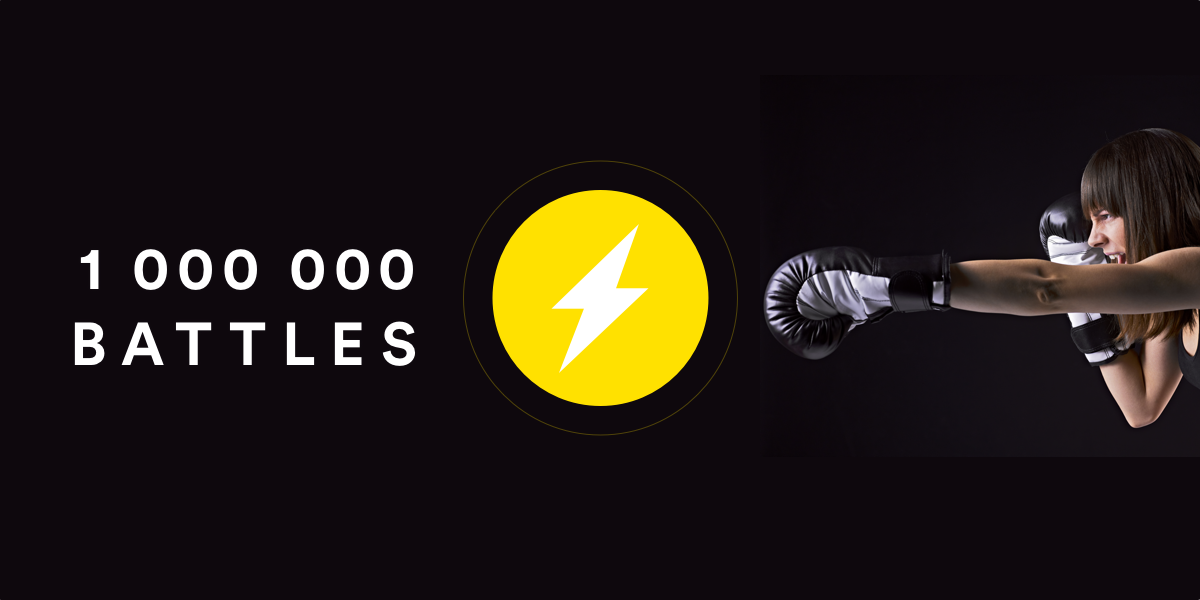 Apprendre est difficile.
À l'école ou dans le monde de l'entreprise, il y a toujours eu des freins à l'acquisition de nouvelles compétences. Pour y remédier, nous offrons sur les plateformes Coorpacademy des fonctionnalités issues du monde du « gaming » pour susciter l'engagement et rendre la formation fun et attractive.

Le mode « Battle », l'une des principales fonctionnalités ludiques proposées sur nos plateformes, a un impact significatif sur l'apprentissage, à court terme et sur le long terme. Le principe d'une Battle est qu'un apprenant en défie un autre dans le cadre d'un duel sous la forme d'un quiz rapide.
Vous pensez être incollable sur les biais cognitifs, ces pièges de la pensée et connaissez parfaitement la différence entre les biais de disponibilité et de représentativité ? Vous souhaitez défier votre collègue Anne sur le sujet. C'est facile : lancez le mode Battle, cliquez sur « Créer une Battle », choisissez votre Playlist, le cours et le niveau sur lequel vous souhaitez défier votre collègue (par exemple la Playlist « Brillez en société » et le cours sur les Biais Cognitifs, niveau Coach) et répondez aux questions posées.
Une fois le quiz terminé, Anne recevra de son côté une invitation, qui l'invitera à se mesurer à vous sur les mêmes questions. La personne qui a le plus de bonnes réponses gagne la Battle, et donc des étoiles qui la feront grimper au classement. En cas d'égalité de bonnes réponses, c'est la personne qui a répondu le plus rapidement qui remporte le défi.
Vous avez gagné ? Anne ne veut pas en rester là et vous défie à nouveau sur son cours préféré, l'Inbound Marketing et le Growth Hacking !
Parce que vous faites des Battles, Anne et vous êtes plus engagés dans vos parcours de formation : il a été prouvé  que les Battles amélioraient l'engagement des collaborateurs sur leurs parcours de formation en ligne.
Dans notre Learning Report 2018, nous avions identifié qu'un type d'apprenant, les « Players » (ceux qui ont joué au moins une Battle), étaient plus engagés et plus efficaces dans l'apprentissage. En analysant les chiffres de nos plateformes, nous avions pu constater que les Players étaient 2 fois plus présents : le nombre de mois depuis lequel un apprenant est actif sur la plateforme depuis le début de son parcours est deux fois plus élevé chez les participants à des Battles que chez les autres. Les Players sont aussi 3 fois plus actifs, avec plus du triple de cours visionnés. Les Players vont aussi plus en profondeur dans les contenus, et ont entamé et achevé 7 chapitres de plus que les autres en moyenne. Leur taux de réussite est même de 13% plus haut que celui des non-Players (taux d'achèvement des cours entamés).
Et nos clients en sont agréablement surpris. Dans notre dernière interview avec BNP Paribas Asset Management, la branche de gestion des actifs de la BNP Paribas qui a ouvert la plateforme Digit'learning avec Coorpacademy en mai 2018, Sylvie Vazelle-Tenaud, Head of Marketing Europe for Individuals, Advisors and Online Banks, nous dit :
"Nous présentons la plateforme comme un outil d'expertise avec du gaming. Dans notre communication nous mettons principalement en avant la fonctionnalité des « vies ». Nous valorisons également les gains d'étoiles, cette fonctionnalité nous permet ainsi de créer de l'émulation entre collaborateurs et leur donner envie de refaire les cours. En revanche, nous n'avions pas énormément communiqué sur les Battles mais les collaborateurs ont découvert cette fonctionnalité par eux-mêmes et ont adoré ! La plateforme Coorpacademy propose aussi une flexibilité d'apprentissage non consommatrice de temps, un parcours complet dure en moyenne 20 minutes. Les collaborateurs améliorent leur expertise en un temps record et en s'amusant !"
En effet, plus de 70 000 défis ont déjà été lancés sur la plateforme BNP Paribas Asset Management, en un an ! Le jeu est naturel, semble demander moins d'effort et pourtant favorise la formation.
Apprendre devient moins difficile.
Sur toutes nos plateformes, nous venons d'atteindre les 1 000 000 de Battles jouées !
Lancerez-vous la 1 000 001ème ?
À vos marques, prêts, défiez !