Behind the scenes… Changing your life successfully: interview with Jean-Marc Tassetto, co-founder of Coorpacademy, on BFM Business (French TV)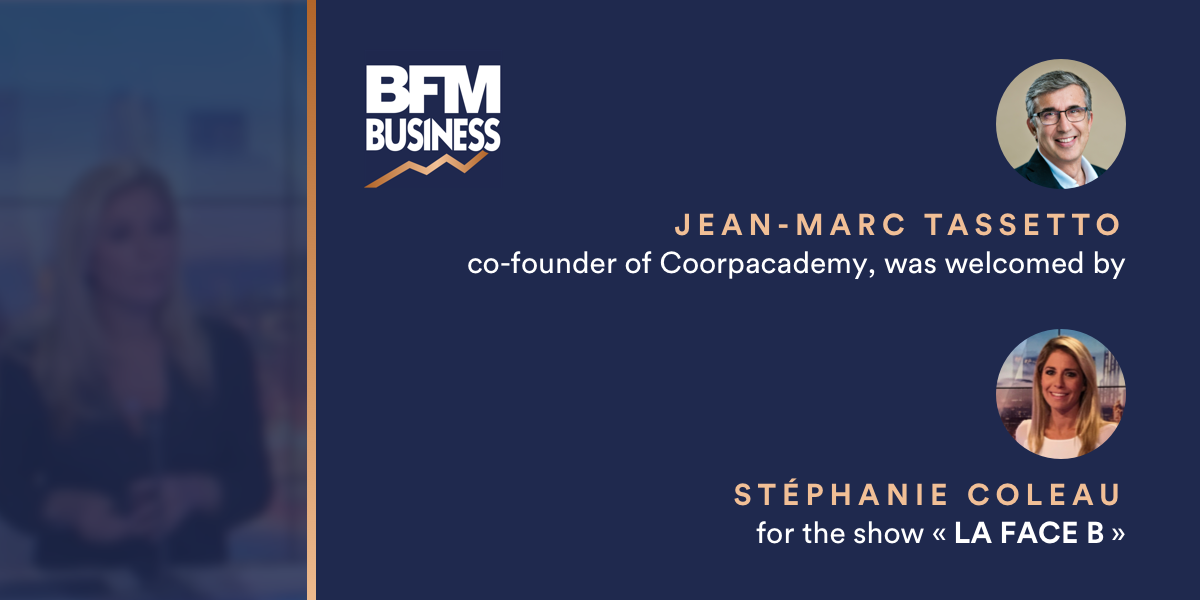 BFM Business (French Television Channel dedicated to business news) was interviewing Jean-Marc Tassetto, co-founder of Coorpacademy and former Managing Director of Google France on Tuesday February 26th. The show was anchored by Stéphanie Coleau, journalist for BFM Business.
The video is in French but you can find the transcript in English below:
Stéphanie Coleau: "Every night, in After Business, we discover the personality of a CEO and how they became entrepreneurs. Where did they get their inspiration? What gives them the desire to make a difference. Tonight, I'm with Jean-Marc Tassetto. Good evening!
Jean-Marc Tassetto: "Good evening!"
Stéphanie Coleau: "You're the former CEO of SFR, more recently the former Managing Director for Google in France, and you decided a few years ago to leave everything to create your own startup, a corporate digital learning startup called Coorpacademy. Why this change? It's pretty rare to see a big boss leave everything for a small structure…
Jean-Marc Tassetto: "I left everything for a small company but for a major project. The major project is the transformation of education; in this case continuous training and learning. In this end, it's taking part in the skills revolution. We're now facing the 4th Industrial Revolution which transforms all organizations – such as this beautiful TV studio which is completely digitalized for example. The revolution impacts all organizations but also individuals who are facing new stakes and new skills. So I wanted, with my two business partners Arnauld Mitre and Frédérick Bénichou, to launch a digital training platform project."
Stéphanie Coleau: "How do you decide to leave Google for example? What happens inside your head at this moment?"
Jean-Marc Tassetto: "A lot of recklessness, a lot of envy, meetings like always. With this feeling that, deep down, everything converges. The teacher's son that I am, the former teacher, the manager facing the mediocre skills of the bad understanding of what's really going on, a meeting in California with a Stanford professor, Peter Norvig, who told me that he gave a lecture to more than 165,000 students – so the discovery of massive open online courses – and a lot of discussions with Arnauld and Frédérick on what we could do to impact and transform continuous training and learning. Everything happened at the same time. I had this feeling that I had to do it. A real impulse."
Stéphanie Coleau: "I welcomed here a few days ago Guillaume Poitrinal, former CEO of Unibail-Rodamco who left to create Woodeum. He told me: "There was a moment where I was not learning anything, where everything became too comfortable, there were no contradictions anymore, no challenges. Is this what you felt?"
Jean-Marc Tassetto: "Theres's indeed this rush of adrenalin. In large corporations, I thought to myself that too many people had the power to say no. Sometimes, it takes 4 month or 6 month cycles to just take a decision, with a lot of people that need to be involved in the process. It's a bit of a mood killer when you want to make a difference, when you want to be an intrapreneur or an entrepreneur. When you launch your own project, you have this adrenalin rush – I have to admit that I was also panicking a bit on the first day. You're facing your laptop, your Powerpoint, your smartphone, and it's on!
Stéphanie Coleau: "How did that first day go?"
Jean-Marc Tassetto: "I panicked. It never happened to me before. I was more than 50, I had two business partners extremely excited about the project – we're very complementary. Despite all that, you're all alone on the first day. On the second day, you have your first taste of freedom. On the third, the adrenalin rush, and nothing will make you look back because you're creating a real project with people you love supporting you. And then it was on!"
Stéphanie Coleau: "And you're the only one in charge."
Jean-Marc Tassetto: "Well, the only one, with business partners, with coworkers, with bankers, with clients. But yes, you're becoming an entrepreneur, with an autonomy level that is probably higher than the one I had in large corporations."
Stéphanie Coleau: "What made you start Coorpacademy? You're the son of a teacher, is this a return to your roots in the end?"
Jean-Marc Tassetto: "It's not really a return to my roots, it's more a projection into the future. The 4th Industrial Revolution is transforming organizations, so we need to rethink training. We need to rethink everything. We need to rethink pedagogical processes, tools, integrated experiences between contents and platforms. We need to massify and scale fast. So no, it's more a projection into the future, with the certainty that, facing the uncertainties, training and learning will remain critical factors of personal evolution, personal fulfillment and employability. It's more the need to lead an impactful project."
Stéphanie Coleau: "Is it the meeting with a Stanford professor that triggered this desire?
Jean-Marc Tassetto: "It was a triggering factor that made me think to myself: "it's possible." But it was particularly the meeting with Arnauld and Frédérick that made me want to do it. We met in a small office in January 2013 and we told ourselves: "do we take the plunge?" Frédérick a serial web-entrepreneur, Arnauld was working with me at Google, and we told to ourselves: "if we take the leap, it's to do something ambitious. This is the Google mentality with the moon shots, the big bets: if we do something, we might as well do something ambitious and impactful. Then we decided to jump in, and I don't think any of us had any regrets for the past 6 years." 
Stéphanie Coleau: "What does Coorpacademy represent today?"
Jean-Marc Tassetto: "Coorpacademy, it's now more than 800 000 learners, including 40% outside Europe. It represents 71 coworkers and we're very proud of the quality of our team, of these young people who wanted to participate in this adventure, these people who wanted to give meaning to their professional projects and who decided to get involved with us. But Coorpacademy also represents more that 40 content partners, more than 1,000 courses on the platform, and is acquiring a European leadership in the workplace, which is our playground. All this create even more ambition for the future."
Stéphanie Coleau: "Speaking of which, what is your ambition today? You worked in large corporations, you've created your own company, what do you want today? What is your ambition?
Jean-Marc Tassetto: "Our ambition is to become the European leader of Corporate Digital Learning. There's a big move in the US, with major players such as LinkedIn Learning – it's something, it's Microsoft. Jack Ma, in China, said he was leaving Alibaba's operations to focus on – guess what – education. We think there's a geo-strategical space to take. Are there any European giants? We would like to be the European giant of Corporate Digital Training. 
Stéphanie Coleau: "What do you like the most about being an entrepreneur? To be free?"
Jean-Marc Tassetto : "I come from Marketing, and I learn my job at Danon. I've always wanted to put the customer – in this case the learner – first, at the heart of everything. I've also always loved going from the strategic vision to the operations. Just thinking is not really interesting. At Coorpacademy we have a vision that we share, we feed ourselves with the field, with our contradictions, with our complementarities, and then we apply all this, we do the work. And seeing that customers take part in this project, partner with us, seeing that there's a high engagement rate within our learners, that they finish and pass the courses: this is a tremendous delight!"
Stéphanie Coleau: "Thank you so much, Jean-Marc Tassetto!"
Jean-Marc Tassetto: "Thank you!"