2050: The HR Odyssey – Episode 4
Somewhere in the world, on a date you really don't need, we have located an advanced technology that allows us to get into the daily lives of employees. This fantastic journey through the experiences of different employees will take you to the edge of the Future of Work and allow you to see the challenges of business transformation. Today in our odyssey, discover the daily life of Aloïs…
"Stop! You just committed a cyber offense by trying to get into this building that is not accessible to you in Metaville. I'm going to have to issue you a ticket."
In the middle of the Metaverse, Aloïs had just tried to enter the offices of a prestigious metacouture house, which only produces virtual clothes.
"I just wanted to drop off my resume… I didn't think it was punishable by a fine… Is this new metaloi?"
"Indeed. Find out what the rules are in your country, but in France, the parliament has just voted to set up a metaverse police force. There are many offences that were not dealt with before. Assaults, thefts, and… intrusions! But listen… if you really want to drop off your resume, why don't you send it by email?"
"Hahaha!" exclaimed Aloïs. "Okay Zoomer. How about a text while you're at it!"
"You young people… I sometimes forget that you were born with the Metaverse! It's been 25 years already… I didn't understand much about it at the time, and here we are in the middle of a conversation with the only physical interaction being smileys above our avatars" replied the metasecurity officer. "Well, I'm not going to fine you, but I can't give you access, so you'd better go to Cyber Job."
Aloïs replied with a smiling smiley face, which was immediately displayed above his virtual avatar, and then set off.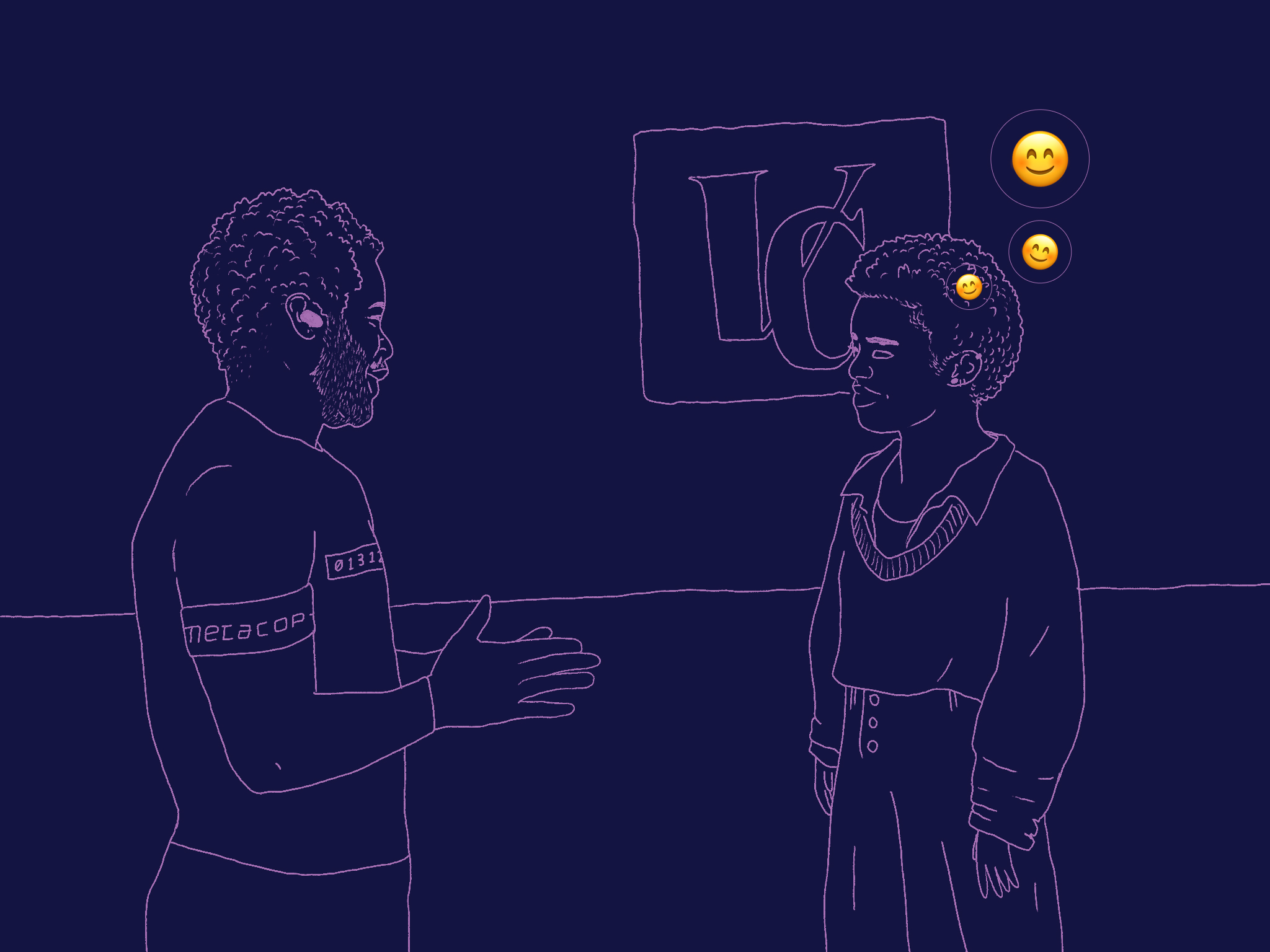 While his parents, real Zoomers from generation Z, used to tell him about Pôle Emploi at the time, today one could access these organizations in the metaverse and find… meta work.
"Hello and welcome to Cyber Job. How can I help you?"
An artificial intelligence was facing Alois. A virtual menu appeared before his eyes, offering several options:
1 – Registration
2 – Make an appointment with your virtual consultant
3 – Other request
It wasn't the first time for Aloïs, who already knew his Cyber Job advisor well. She was the one who had sent him to the doors of Virtual Clothing this morning and who had almost cost him a fine. Maybe the AI data should be updated following the new cyber law… With this thought, Aloïs chose option 2. His advisor was available and Alois would soon be back in the real world for lunch.
"Hello Aloïs! How's that job search going?"
"Not very conclusive, I was stopped at the doors of the building by a virtual security guard. Results of the races, I return to the starting point. Don't you have any new offers for me?"
"What a shame. I apologize for the inconvenience. I will update this new information in my system to improve my service. Let me look at the new open positions. I'll ask you for a moment."
A loading icon indicated that his advisor was looking for Aloïs' new opportunity. A few minutes later, Aloïs saw a notification appear on the side of his virtual headset: *New document available in your Candidate Area*
"I have just sent you several job sheets adapted to your profile. All your information and documents are ready to be sent. If you wish to apply, simply press the button at the bottom of each job description. Don't hesitate to come back to me if you need more information!"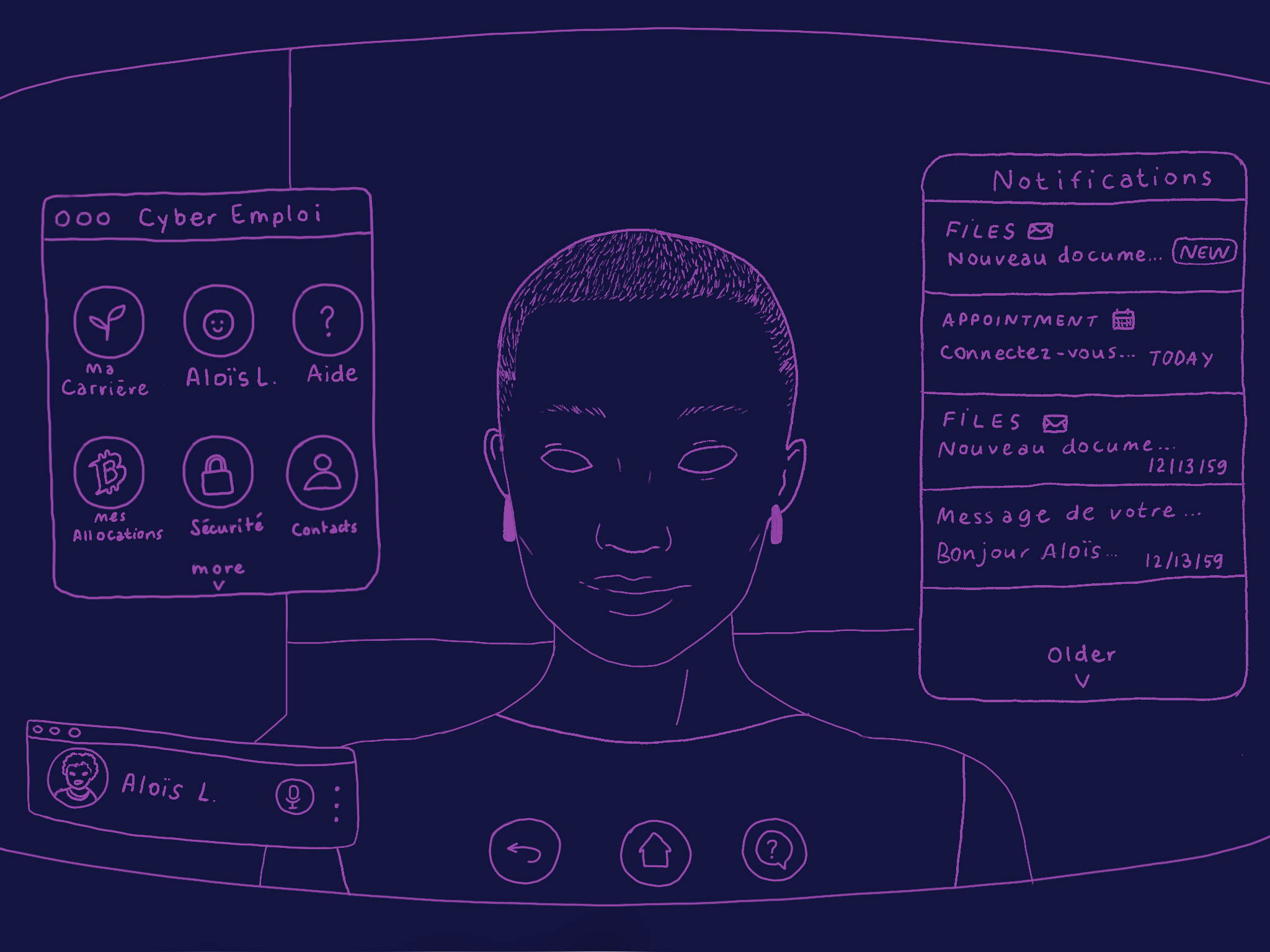 Aloïs ended the meeting and opened the sent document.
NEW POSITIONS AVAILABLE!
Metaverse Team Manager
As a metaverse specialist, you are able to manage a team of avatars in complete autonomy. Your main role is to build and maintain a virtual link with a team of 15 people in the world, within the virtual space of a global organization, directly from the metaverse. For more information, click here.
Metaverse Tourist Guide
Museums, cinema, architecture, there are so many beautiful things to discover in your Metaville! If you have a meta-digital dexterity and you want to accompany the new avatars in their discovery of the virtual world, apply here.
Metaverse Event Manager
Concerts, weddings, exhibitions, galas, corporate events… Are you a virtual event specialist? We need your skills to organize large-scale meta-events that make the eyes of the participants shine in their virtual helmet! If you recognize yourself in this ad, we invite you to click here.
Virtual avatar stylist
Virtual fashion has no secrets for you. You are aware of the latest NFT releases and virtual collections, you have a sense of aesthetics and a good address book? Become a virtual avatar stylist and help avatars navigate through virtual fashion. Ready to revolutionize meta-style? Click here to apply.
This last offer caught Aloïs' attention. Maybe finally, his skills in 3D realization and his knowledge in virtual fashion will give him access to the building that was not open to him earlier…
Conclusion
In 2050, the job market will be reinvented. Changed by the emergence of the metaverse and new technologies, new professions will develop to manage this new "life" space. At the end of 2021, the American gaming expert Jon Radoff proposed four major families of jobs related to the metaverse and web 3.0. On this basis, Jérémy Lamri, CEO of Tomorrow Theory, has pushed the exercise even further by drawing up a list of 40 professions, which inspired this article.