Clue, the educational investigation: become the hero of your training!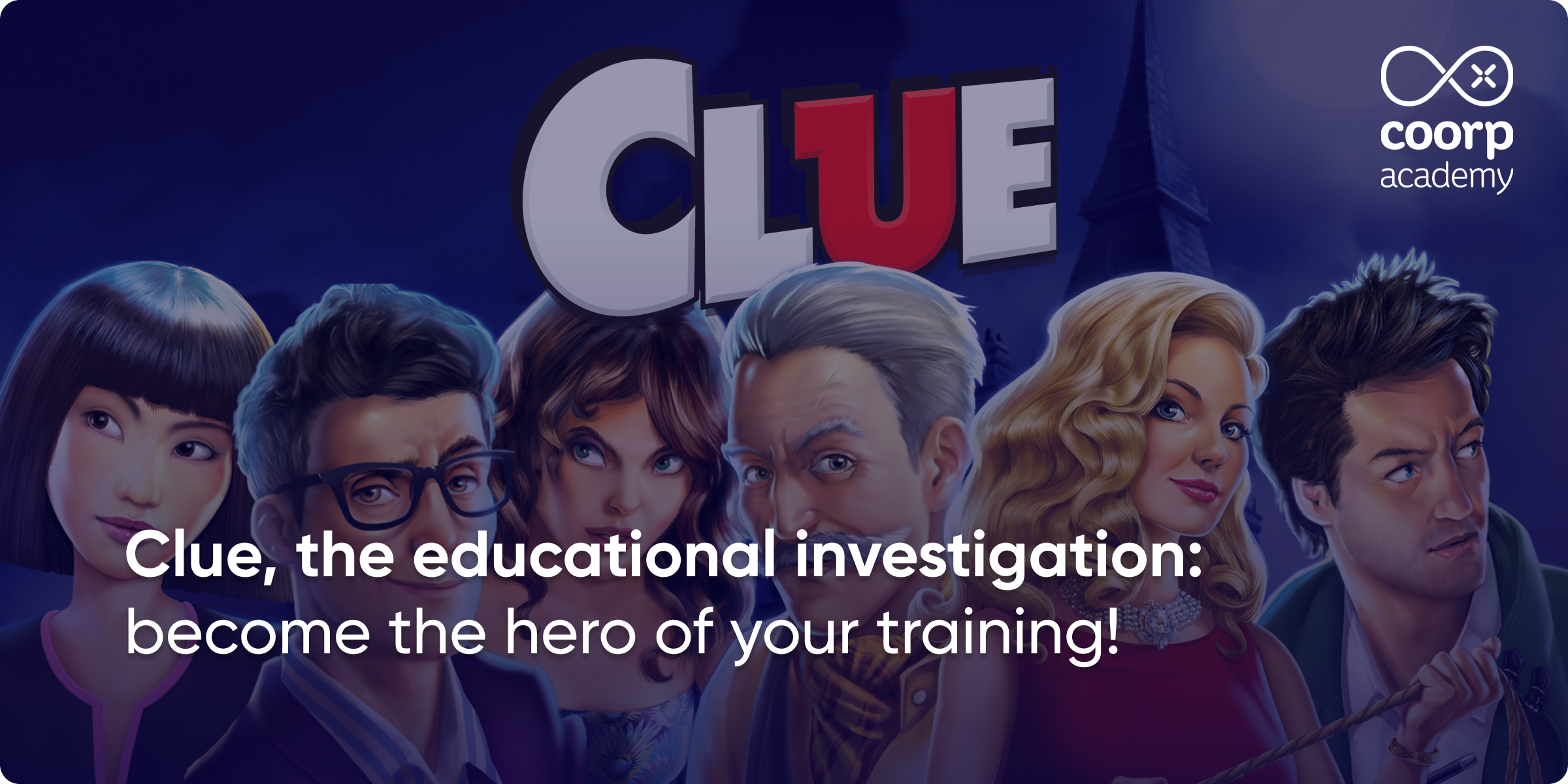 Having just arrived on Skill Island, the seven members of the Newcleus research laboratory's party committee soon lose one of their number in tragic circumstances. What happened to poor Mr Boddy? While everything seems to point to an accident, Colonel Mustard suspects… murder! He decides to investigate on the sly… Who could have had it in for the good man? With what weapon was he killed? And in which room of the house did the murder take place? These answers are up to you to find, thanks to the clues that have been misplaced in the sumptuous house. It's up to you to play detective, it's up to you to play…
Clue !  
With more than 150 million copies sold worldwide since 1950 – including 4 million in France – the mythical board game developed by Hasbro® has been invited onto the Coorpacademy platforms to make your employees the heroes of their training.
Discover this new educational format through 3 clues on the backstage of this partnership! 
Clue 1 – An iconic and entertaining partnership
Building on the success of the Trivial Pursuit courses, our partnership with Hasbro continues to enrich our training offer through the world-famous game Clue. Making learning more fun is one of our core beliefs and engaging employees in training is one of our daily missions. Therefore, we are constantly looking for innovative and entertaining formats, so that the learner is a real actor in the course they are playing.
With this new learning innovation, the learners of the Coorpacademy platforms have the opportunity to develop their skills through a game that they know well, and which mobilises their full attention! Indeed, a good detective must be critical…
Clue n°2 – A formative and playful investigation!
In Coorpacademy's Clue investigation, your objective is to understand who is behind the murder of Mr Boddy… To solve this crime, you will have to discover as many clues as possible by exploring the manor and questioning the five suspects. But be careful… they will mislead you, knowingly or not! Your critical thinking skills will be essential to unravel the truth.
This skill, identified as indispensable by 2025 by the World Economic Forum, enables people to learn how to construct rigorous reasoning in order to achieve an objective, or to analyse facts in order to formulate a judgment.
Clue 3 – An immersive learning experience 
You are now in the shoes of the famous Colonel Mustard! You have access to the different rooms of the manor. These are full of clues that you can manipulate to gather all the information you need to solve your investigation. Pssst… the mansion is so big, it also hides secret passages. Pay attention, they might help you to identify the real culprit…
Set sail for Skill Island, a windy island, and find the seven members of the Newcleus research lab's party committee! Hurry, one of them will soon disappear under strange circumstances… Start the investigation!