Coorpacademy is now certified by the Learning & Performance Institute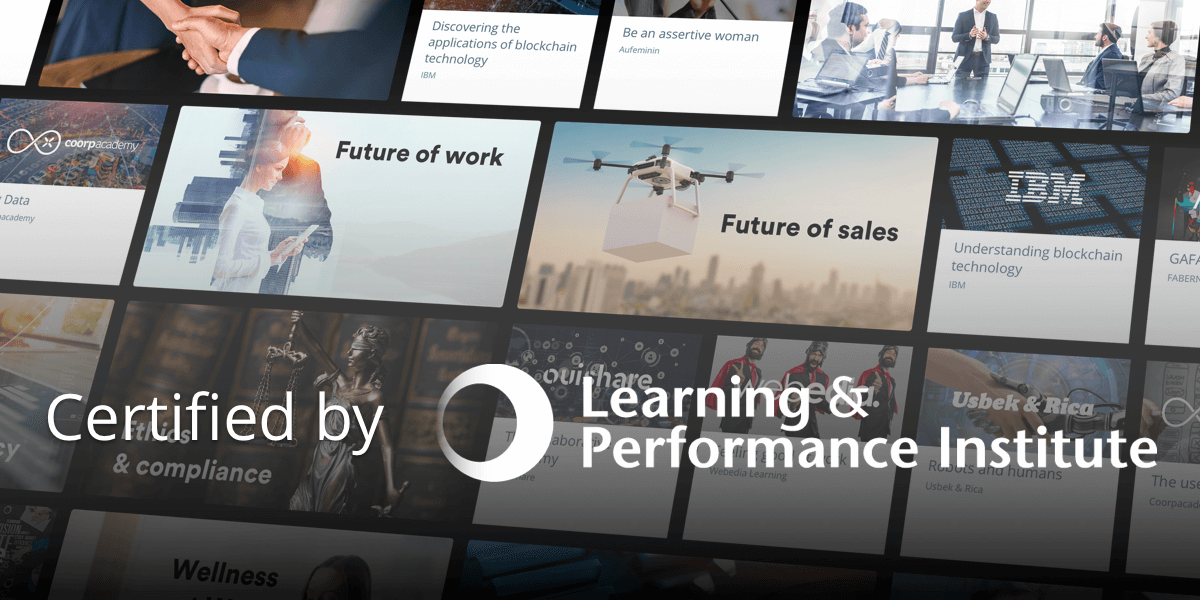 Coorpacademy has just celebrated its 5th anniversary and we are delighted to announce our latest piece of good news regarding the UK market, only a few months after we settled down in London.
The UK's leading authority on Learning & Development, the Learning & Performance Institute (LPI), has accredited Coorpacademy for its user-centric digital learning solution adopted by 700,000 learners worldwide and which integrates the latest innovations in online education. Users have access to a content library of over 750 courses, created through partnerships with 30 organisations (e.g. IBM, Euronews, Wolters Kluwer…) and delivered through 700 short videos and 6,000 questions, on any device, wherever and whenever they want.
According to the LPI's report, Coorpacademy's platform supports over 100 different businesses in sectors including luxury retail, automotive, food and beverages, transport and financial services and help them to be more effective and efficient by:
Transforming their organisation into a 'learning organisation'
Developing their employee's digital acculturation and soft skills
Boosting employee engagement rate up to 95% and employability through increased confidence on digital tools
Seamlessly integrating job specific training and on-boarding courses.
3 months after being referenced by global analyst firm Gartner as a Learning Experience Platform (LEP) in its Market Guide for Corporate Learning Suites, this new accreditation supports our ambition to become the strategic corporate digital learning partner of choice for medium and large, UK-based companies.
The UK learning and development market is undergoing momentous change away from structured learning programmes, towards open, 'always on', continuous learning cultures that better support the pace of change in work today. This is a critical period for technology companies like us and for organisations which understand the value that corporate training delivers to employees and teams alike.
Find out more about the Learning and Performance Institute here. Our profile will be shortly available on their website.
For more information on this accreditation and the associated key performance indicators, please contact us on [email protected] !