The evolution of the Coorpmanager tool that all administrators have been waiting for!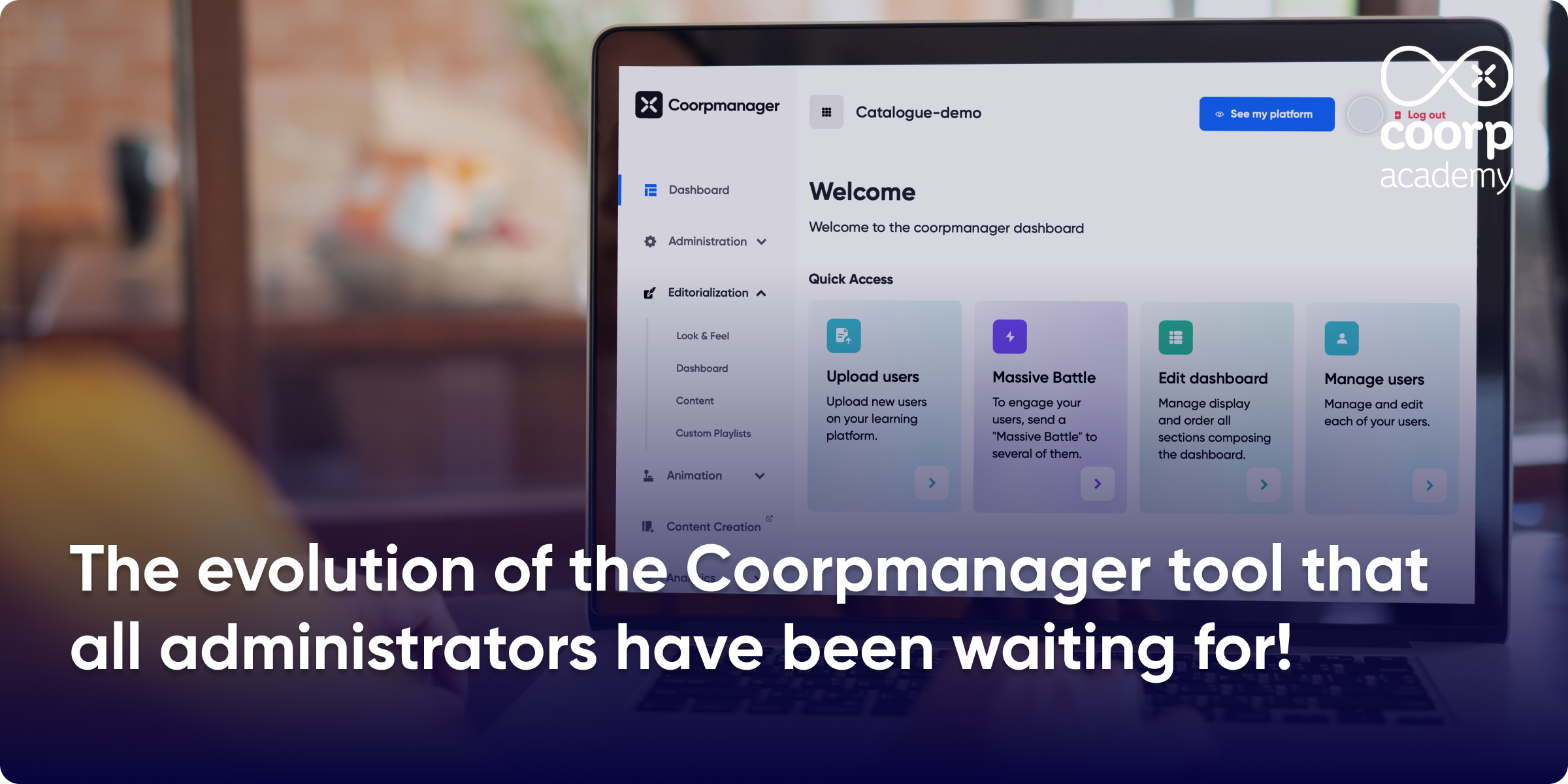 If you could edit and animate your platform with just a few clicks, wouldn't you be more effective and have a greater impact on your learners? This is the objective of our new platform management tool: Coorpmanager!
Much more than a simple management tool, Coorpmanager is your single point of entry for managing your platform independently. It centralises all the available functionalities allowing you to improve the experience of your users.
The advantages of this solution:
Customisation of your platform in a few clicks
Autonomy to manage users and editorialise the platform
Centralized access to all the tools that allow you to administer the platform
The flexibility and fluidity of Coorpmanager, designed to help you administer the platform with easeLet's discover the different features of Coorpmanager: 
Dashboard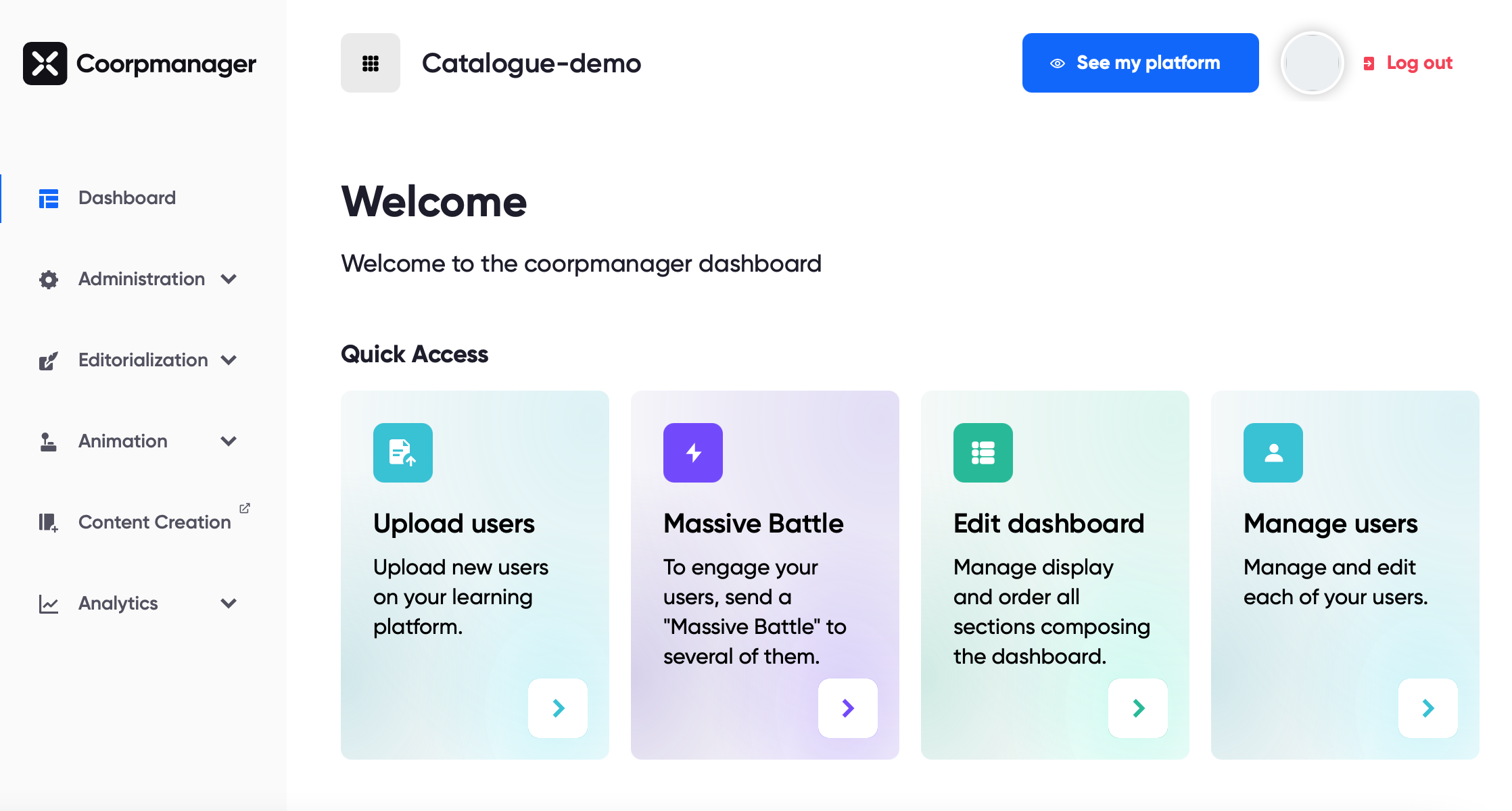 When you open Coorpmanager, you will find your dashboard. Thanks to the highlighted "Quick Access", you can access shortcuts to certain functions. In the left-hand menu you will find all the available functions.
Administration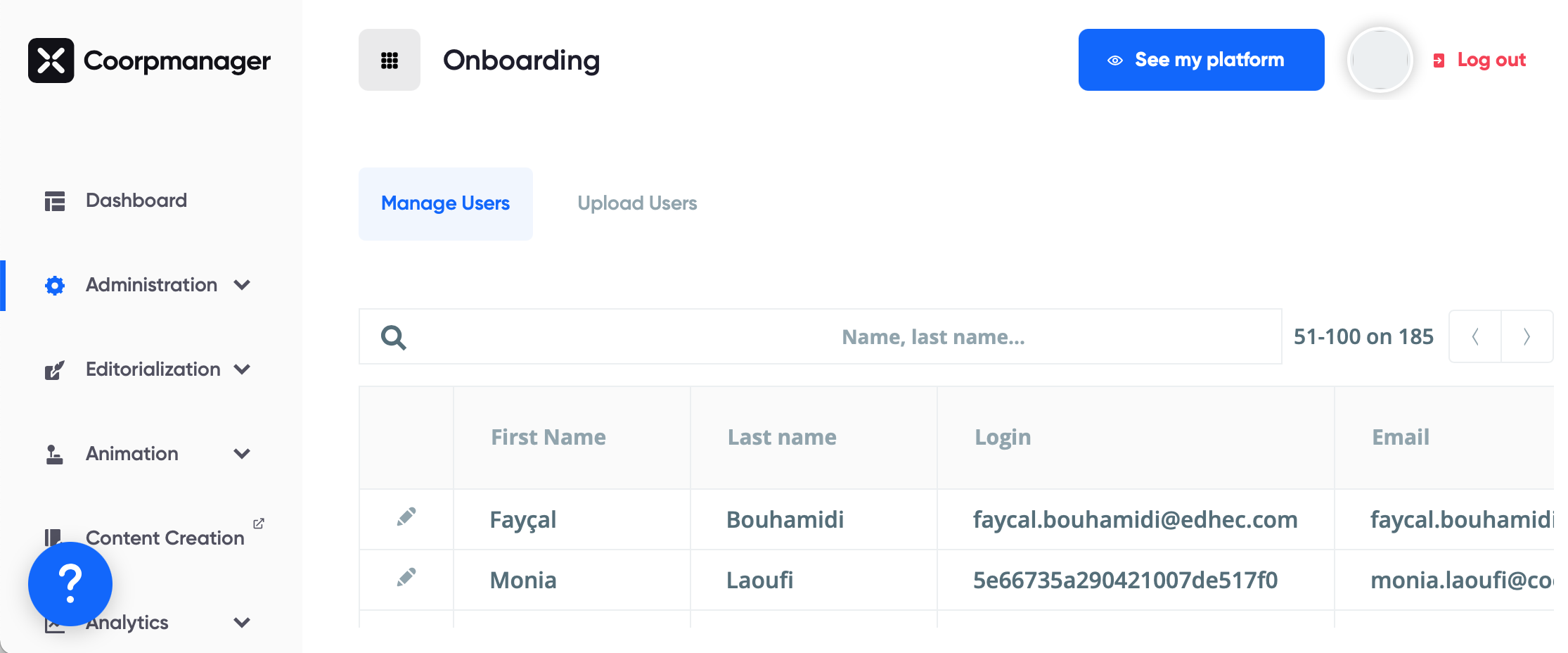 The Administration tab allows you to manage the general information of the platform and especially the management of users. Indeed, you can add or delete users directly in this tab. If you are an administrator of the platform, you can also assign roles and accesses to each user by clicking on one of them and selecting which roles are assigned to them.
Editorialization
You will be able to edit your platform from A to Z, in order to meet your day-to-day training needs as closely as possible.
The Look & Feel section allows you to configure the colours of your platform and the logo.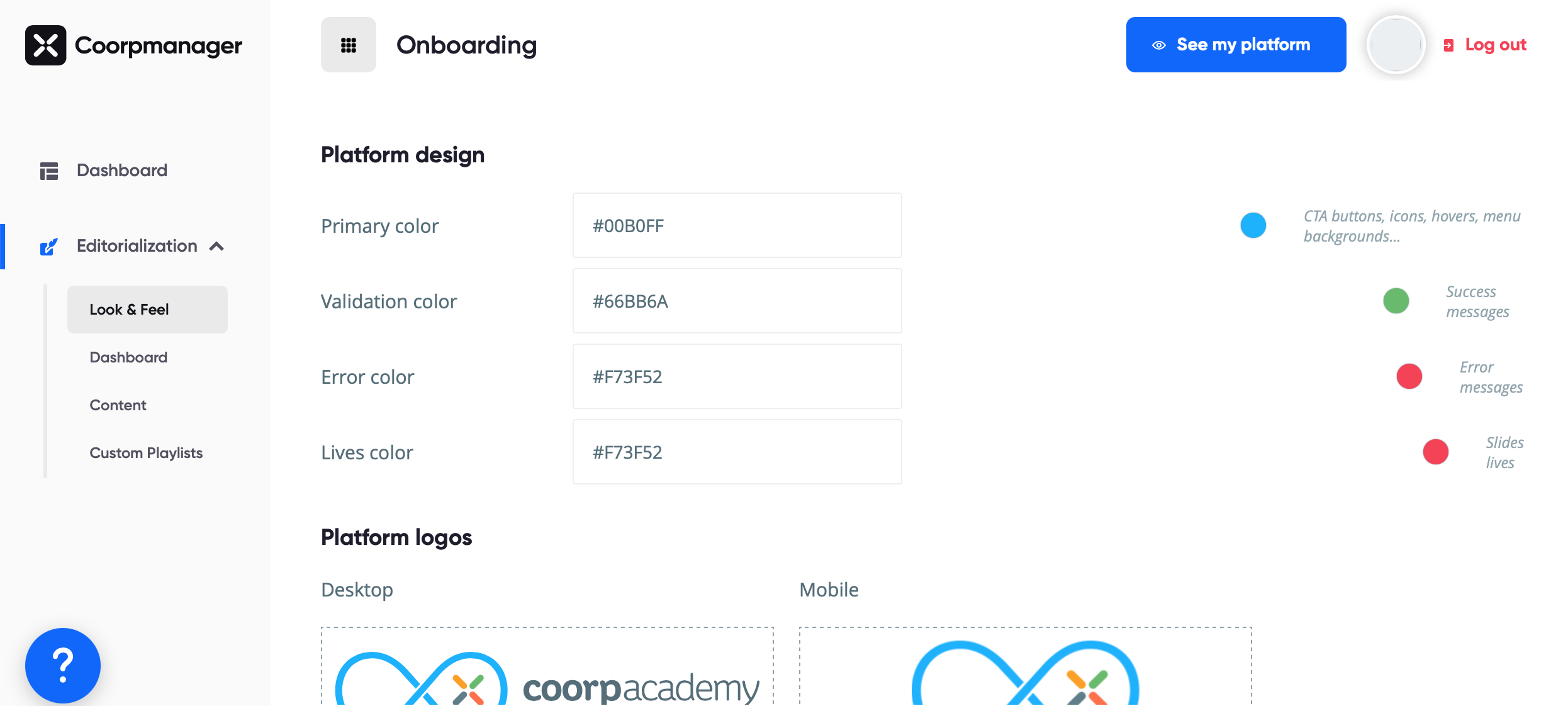 New! Under dashboard, you have the possibility to configure the homepage of your platform, choosing the sections highlighted for your learners. What will they see when they arrive on their platform? You decide by choosing which certificates, skills or playlists to display first.
Finally, the Custom playlist section allows you to create course playlists on your own. A course playlist is a list of different courses available on your platform, gathered together to learn about a particular topic. With this new feature, any authorised person can now structure and personalise the learning paths of learners in the form of playlists designed by them, and assign them to the populations of their choice! Find out more about this feature in a dedicated article here.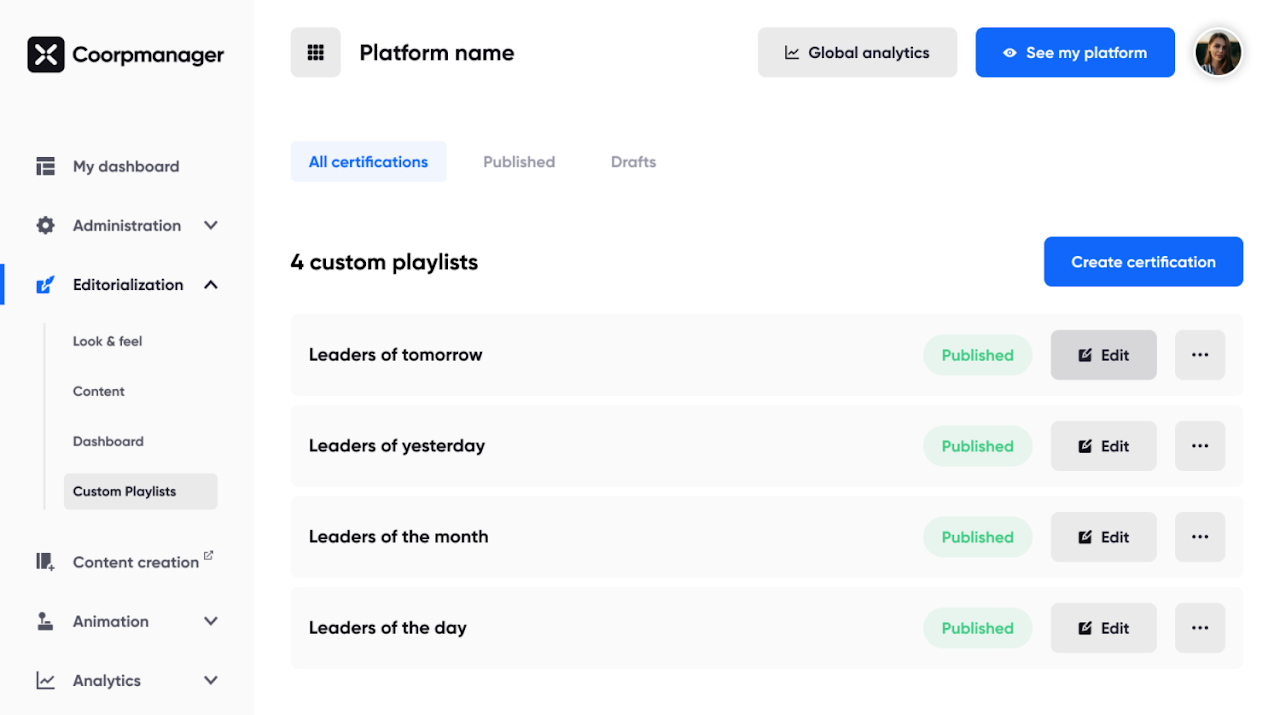 Animation
Coorpmanager allows you to address your learners directly to increase their engagement.
In addition to managing the general criteria of communications via email or forums, you can autonomously animate the populations of your choice thanks to the Massive Battles!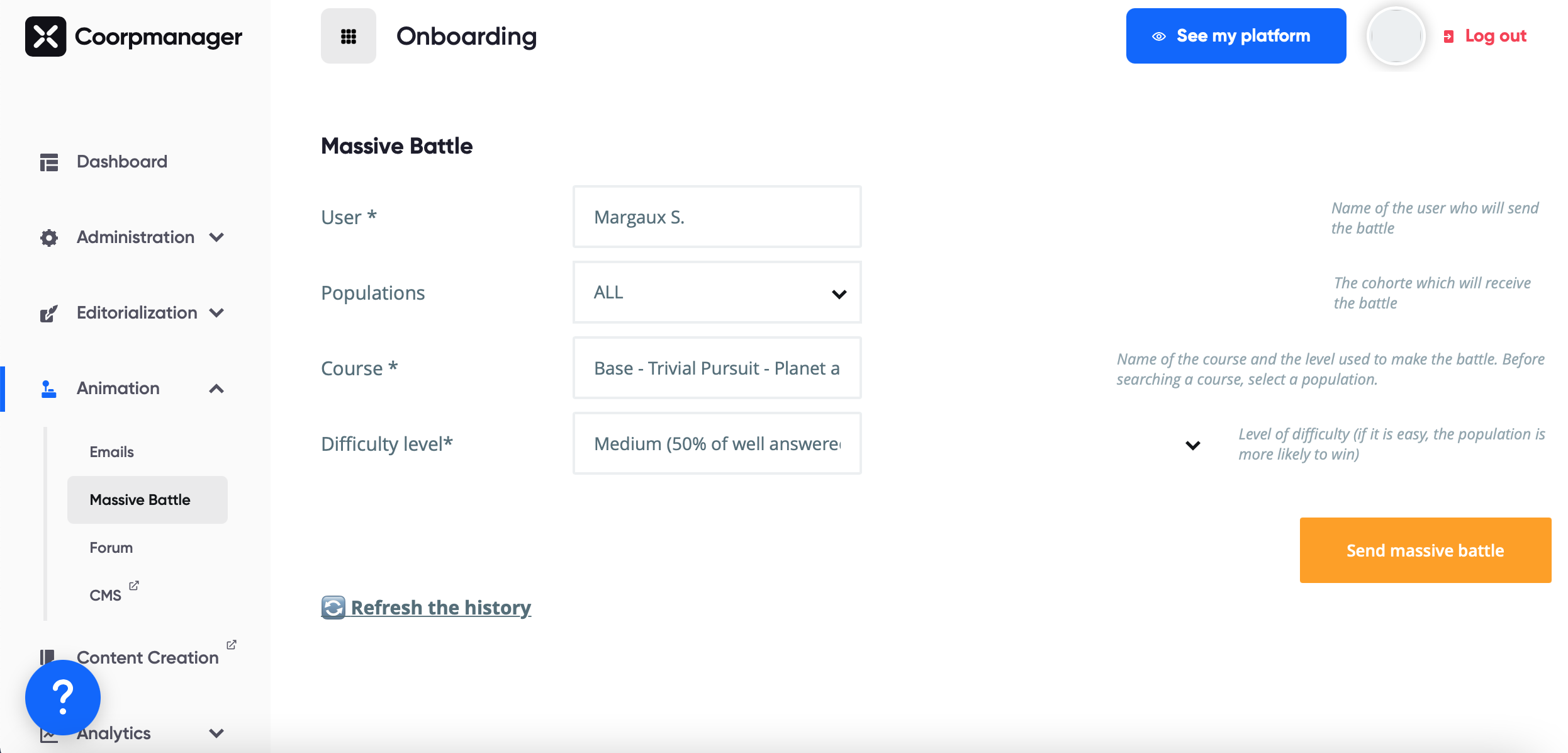 A Massive Battle is a Battle with several people! A key feature for engaging learners on the platform, a Massive Battle involves challenging several users at once on the course of their choice. All or some of the learners on the platform participate and they are all challenged by one of them.
Centralized access to other services
Find in Coorpmanager your access to :
The CMS part of your platform
Cockpit, our content creation tool
Dashboard Analytics to find your usual data and KPIsDo not hesitate to ask your dedicated CSM any questions you may have about any difficulties you may have in using Coorpmanager!