A single access for a whole world of learning

Toutes vos formations en ligne en un seul clic !
Coorpacademy propose une offre clé en main pour former vos collaborateurs. Découvrez notre solution et notre offre Coorpacademy by Go1 : un abonnement unique qui agrège 250 partenaires de contenu
Collection de 100 000 formations en ligne inclus selon vos besoins qui couvre toutes les compétences en forte demande
Curation et accompagnement
OFFRE Formation en ligne Coorpacademy by Go1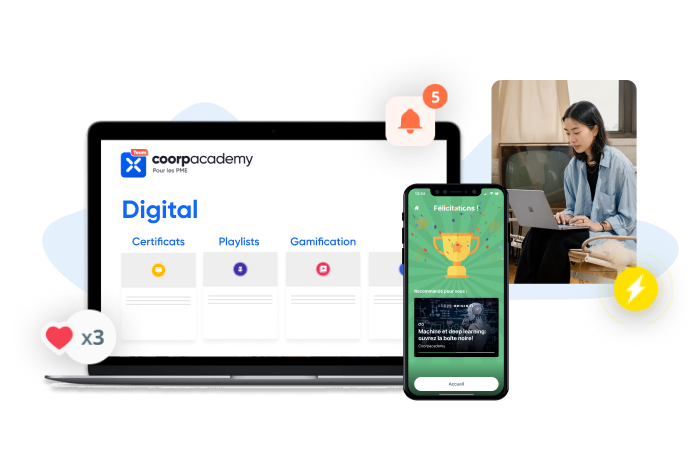 noté 4.7/5 sur 200+ avis sur Gartner Digital Markets

Coorpacademy va changer votre vision de la formation.
La façon de se former au sein des entreprises n'a finalement pas beaucoup évolué depuis 15 ans : longue, coûteuse, peu efficace et surtout ennuyeuse. Encore plus pendant la crise où toutes les formations présentielles sont annulées ou reportées,  Coorpacademy révolutionne la façon dont les collaborateurs peuvent se former. 
* Cette étude de McKinsey  rapporte que plus de 9 dirigeants sur 10 encouragent toutes les initiatives permettant de continuer de développer les compétences de leurs collaborateurs dans le contexte de confinement.
Managers can't push the pause button on capability building, so the moment belongs to Digital Learning. Some tactics and strategies can help.
Vous regarderez le Digital Learning d'une façon radicalement nouvelle grâce à notre Learning Experience Platform souple, flexible et qui s'adapte aux besoins de chaque utilisateur :
– Efficacité pédagogique : les cours sont composés de vidéos conçues par des experts et de quiz permettant d'ancrer les connaissances
– Flexibilité : les cours peuvent être consultés, interrompus et repris à tout moment, sur terminal fixe ou mobile, sans perte de la progression
– Adaptation : chaque utilisateur peut définir son propre parcours d'apprentissage, librement et sans contraintes. L'intelligence artificielle lui poussera le bon cours, au bon moment.
– Collaboration : le social learning permet d'optimiser l'apprentissage entre pairs
Ce sont des parcours de formations que vous connaissez, mais avec une expérience d'apprentissage en ligne comme vous ne l'avez encore jamais vue. Pendant cette crise qui touche toutes les entreprises et tous les individus, continuons sans cesse à encourager et faciliter le développement des compétences, notamment digitales et soft-skills.
Enjoy Learning.