A 360° communication plan to launch a new CSR training programme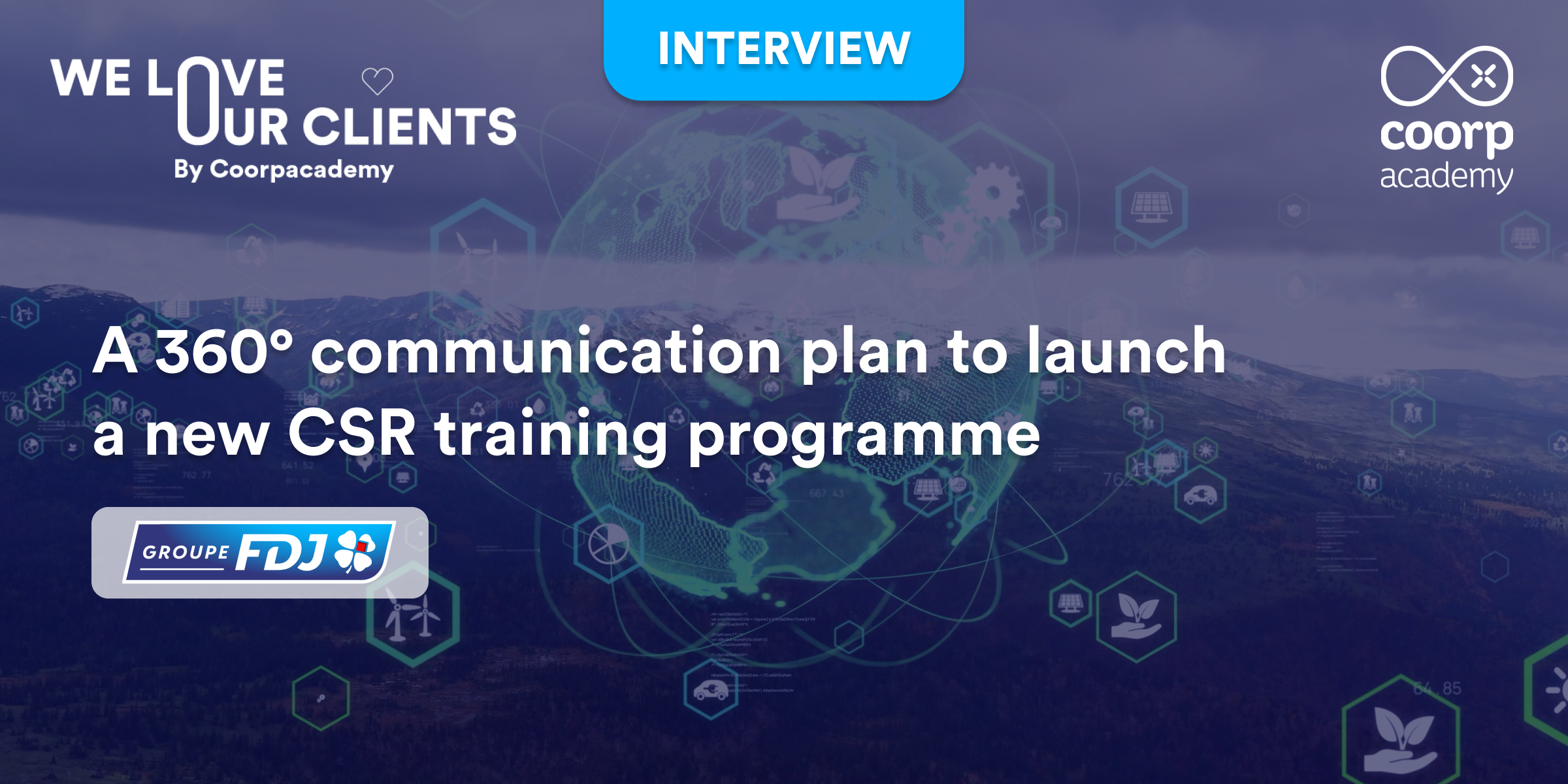 As part of our We Love Our Clients workshops, Jérôme Pesenti, HR Project Manager for digital training at FDJ, shared the best practices used to launch their CSR acculturation programme. The objective is simple: train 80% of the FDJ group's employees in CSR in 9 months.
Q.1: How will you manage to reach 80% of the Group's 2,000 employees in a few months?
The essential condition was to have a common training platform that was accessible to all of our large subsidiaries. This is the case with the Coorpacademy platform.
On the Coorpacademy platform, we have created a course of 11 CSR acculturation modules at FDJ. We chose to include modules previously created with Coorpacademy and our in-house experts, as well as a mini-series filmed with actors. The advantage is that we managed to integrate this innovative format into Coorpacademy's, to have the same functionalities and user experience we were looking for.
Q.2 : What communication actions have you put in place to bring 2000 employees of different profiles and subsidiaries to this training programme?
We designed a 360° communication plan: we did everything we could do!
On the intranet, we published an article presenting the programme and its challenges. Newsletters were sent to all employees.
To engage learners, we need to communicate: both internally, but also through Coorpacademy emails, which have a very good opening and click rate.
In order to reach more people, we have therefore established an emailing plan in several waves to reach as many people as possible.
We are also counting on the game and the gamified aspect of the platform.  We are going to look for the gambling side of employees, because at FDJ, games are in our DNA! For a month and a half, we pushed a "CSR acculturation" challenge. To earn points, employees had to complete the entire CSR course and compete in battles. This game, where the winners are those who win the most battles, reached the most active learners (about 10%) and allowed them to anchor their knowledge by repeating the questions and answers.
Q.3 : This programme responds to the FDJ Group's desire to accelerate its CSR shift and its sustainable transformation. How does the Group support the ambition to acculturate all employees?
It's true that the entire Group is involved.
We have mobilised all our HR referents for the different populations and we are fortunate to have two official sponsors in the persons of Pierre-Marie Argouarc'h, Group Human Relations and Transformation Director, and Vincent Perrotin, Group CSR Manager.
Furthermore, the decision is official: the completion of this programme will be one of the criteria for the incentive scheme this year for all FDJ SA employees.
Q.4: What are the results to date?
At the end of June 2021, i.e. 3 months after the launch, 20% of the teams had already completed the 11 training modules. They have acquired the basic knowledge of CSR at FDJ, and we are confident that we will reach the objective of 80% of employees trained. All employees will thus have the same common base of knowledge on CSR issues within the Group.