"Had I not played Battles, I wouldn't have been amongst the 4 laureates of the Paris Airports MOOC" – Discover Sory Fofana's interview, the player of the millionth Battle on Coorpacademy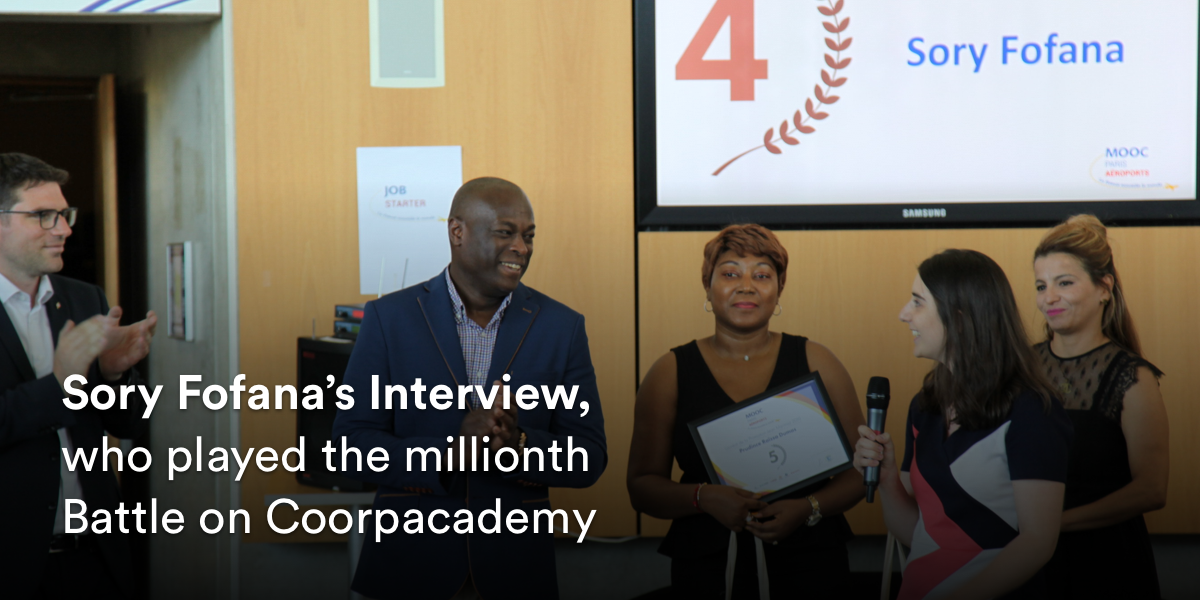 The MOOC Paris Airports laureates awards ceremony, organized by Tourism Academy, occured at the Maison de l'Environnement et du Développement Durable in Athis-Mons (France) on July 4th, 2019.
The MOOC Paris Airports is an online training platform powered by Coorpacademy which will allow this new learners promotion to specialize in airport services jobs, from welcoming tourists to airport security and assistance to people with reduced mobility.
We are proud to help creating jobs in what is the first showcase of France in the world with our pedagogical expertise.
We also took this opportunity to interview Sory Fofana, who finished at the 4th spot of the MOOC and who played the millionth Battle on Coorpacademy!
He enjoyed his learning experience on the Paris Airports MOOC and now wants to keep training as an Hotel Assistant Manger. He started on Monday (08/07/19) to practice his new skills in a 3-stars hotel.
"The MOOC gave us great insights to propose a top-notch welcoming experience to tourists. I've never seen an online training platform as complete as this one, with as much learning content. It was completely new to me and really great!"
What were you doing before taking this Paris Airports MOOC online training?
Before I took this training, I was doing an internship in order to become an Hotel Assistant Manager. I just finished the theoretical part of it. Now, I'll start the put into practice part of it, on Monday, July 8th. For the next 4 months, I'll apply what I learned in the theoretical part of the training.
You finished 4th in the Paris Airports MOOC, how did you achieve this great result?
It was a long challenge, and pretty difficult for me. How did I do it? I needed to earn points, especially with playing Battles one I had finished all training contents. Had I not played Battles, I wouldn't have been amongst the 4 laureates of the Paris Airports MOOC.
What did you think of the online training platform?
I thought it was great. It was completely new to me, I've never found something similar to this. The website is great, the training content was very pedagogical and the more you finish modules, from Basic, Advanced and Coach, the more you want to learn the rest. The pedagogy is great, and it's playful at the same time.
What did you think of the Battle mode?
When I had finished all courses, and after I got all badges and certificates, I received a Battle requests. I started to look into this. And I was like: "Let's try this!" The more I received Battles requests, the more I played, and I told myself: "If I want to finish among the laureates, I need to challenge other learners and play Battles!"
What was your favorite course on the platform?
My favorite course was the one on Indians. I worked for more than 10 years in the hospitality field at AccorHôtels, and I was welcoming Indian customers. Indians can be complex customers, they have their own way of asking things and I needed to adapt every time to their culture, to their ways of thinking and to their ways of seeing things. This course really interested me in order for me to face any kind of situations with Indians. They're very curious, and the more they ask questions, the more they show interest to our culture, to our ways of seeing things. Through this course and the Battles associated with it, I really understood how to welcome Indians when they visit France.
What do you want to do after?
Battles.
Congratulations on the millionth Battle played on the platform! 
Thank you very much! It was a great experience, an enriching one. Thanks for all the work you've done for the platform to work seamlessly, I didn't see any bugs. It was great overall!
Bravo!