What's next with the French publishing house Dunod? Interview of Éric Pommat, Digital and Business Development Director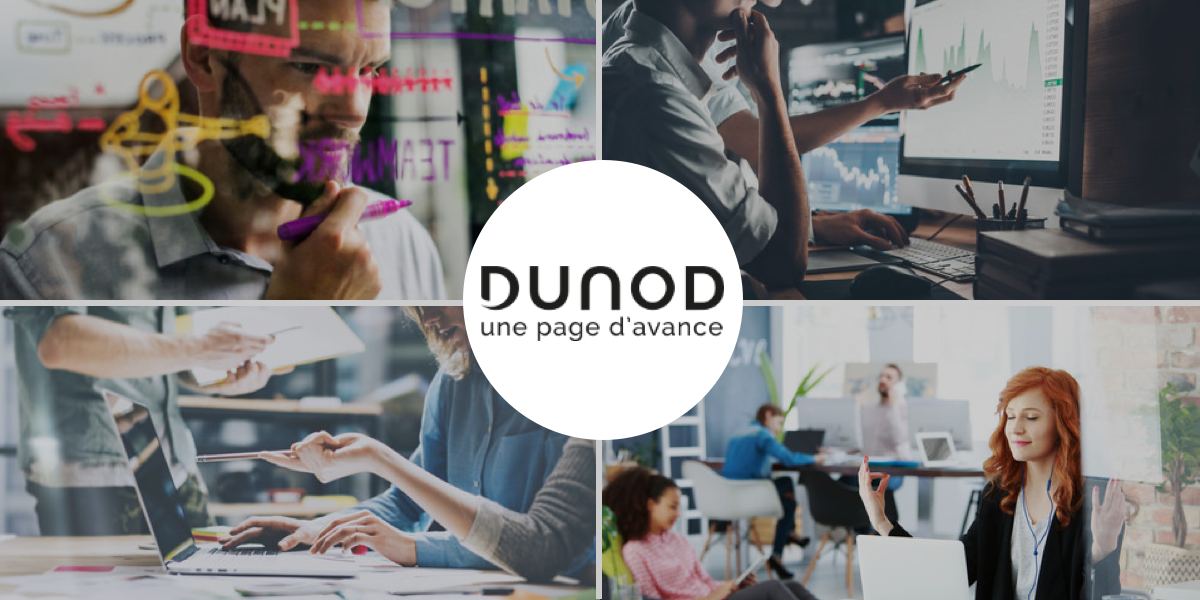 At the beginning of 2018, when we started our collaboration with the French publishing house Éditions Dunod, we had the chance to meet Éric Pommat, Digital and Business Development Director of the famous French publishing house to celebrate the beginning of our content partnership (to read this interview, it's here).
After the co-edition of 4 courses, it was the right moment to see what had been done, to talk about the next steps and to see how we envision the follow-up of this insightful collaboration.
In 2018, learners discovered mindfulness at work, a meditation technique which fits very well in the corporate world to increase one's energy levels and avoid stress-inducing "attention thieves". Learners also developed their creativity with mind mapping, a mental mapping technique to leverage ideas, generate more ideas and become more creative at work. Do you sometimes feel non-productive at work? Our Learners discovered 9 tools to work efficiently, including the Eisenhower matrix and the Getting Things Done methodology. And finally, in 2018, our learners (re)discovered inbound marketing and growth hacking, those cost-effective, efficient and fast-to-implement marketing techniques. 4 new skills, between soft skills and toolboxes to feel better at work and work smarter, that pleased Coorpacademy's learners in 2018 (and viewing numbers prove it!)
Here we are with Éric Pommat for a new interview, to discuss prospections for 2019.
Hello Éric, thanks for meeting us again. First of all, what did you think of the co-edition process with Coorpacademy? How the publishing house Dunod ensures the communication with content creators and Coorpacademy's instructional designers for the course conception runs smoothly? 
The co-edition of the first 4 courses Dunod by Coorpacademy was flawless and efficient!
It's important to note that Dunod is an atypical kind of partner for Coorpacademy. At the end of 2017, our publishing house – and it's distinctive enough to highlight it – recruited its own team of instructional designers. Developing a new Digital Learning activity was indeed one of the major steps of our digital transformation.
Today, in addition to our legacy core work of publishing books, we want to put our editorial know-how, our pedagogical and digital expertise and the depth of content we have already to the benefit of companies and organisations. In order to advise them and to support them in their communication, custom edition and digital learning projects. Naturally, we're on Datadock!
Those first courses have been created by our instructional designers, with experts on the topics and with the help of the instructional design team at Coorpacademy: everything was reunited to create engaging and attractive content for learners.
And a few months after our courses came out, the statistics speak for themselves: the Dunod by Coorpacademy courses are among the most played and appreciated on the Coorpacademy platforms.
How are topics selected for next courses?
We proceed in a "collective thinking way" by crossing propositions made by Dunod and Coorpacademy.
The Coorpacademy Team submits hot themes and topics among Coorpacademy's customers or spots inspiring topics in the Dunod content catalogue.
On our side we use our editorial know-how, our experts network and our sales numbers to pick the most interesting and Coorpacademy-friendly matters.
After analyzing both insights, the collective intelligence of both teams then define the courses we'll co-edit together!
What are the new courses to be released this year? 
In 2019, we'll be working on soft skills with 4 new essential themes:
1 hour to stop stressing and stay zen.
The best Lean tools for improving performance
Intrapreneurship and change makers
Learn how to learn
Are you noticing – in your day-to-day life – the importance soft skills are taking over hard skills?
Of course. The necessity to develop soft skills is becoming tangible everyday, in our jobs and day-to-day tasks. Sales techniques change, our readers' ways of consuming content change, technology is becoming more and more important in our lives.
"…We've entered in the planned obsolescence of skills era (which have a life span between 6 months and 5 years)"  as Jérémy Lamri says it very well in its latest book 21st Century Skills: how to make a difference? "The skill to learn how to learn new skills become the central skill for someone, to allow that person to maintain his or her skills portfolio, to keep improving and to save his or her adaptability, meaning in the end his or her employability."
It's becoming obvious: uncertainty lies with the future of the job market, with the game-changing technological innovations or with jobs creation. How do Dunod publications adapt to this fast-changing environment?
We learn and we try to reinvent ourselves everyday, supported by our triple expertise (editorial, pedagogical and digital) and our content catalogue (7,000 books written by 5,500 experts, enriched with 365 new books every year, both digital and paper).
Let me show you a few examples.
At the end of 2016, facing the structural decrease of our specialized markets, we started a transformation by creating a general public department at Dunod.
In 2017, we started to work on the digital learning market, first with soft skills programme (Stress Management/Self-confidence, Management, Time Management) developed for a group of private universities, and then with Coorpacademy.
In 2018, we launched an innovative online training tools for infancy professionals with the Pros of Infancy.
In 2019, we just launched the Dunod Atelier, a new B2B service of custom edition.
What is your favorite course co-edited with Coorpacademy? And why?
"Mindfulness at Work", "Boost your Creativity with Mind-Mapping", "Working efficiently: The 9 tools you need to know about", "Inbound Marketing & Growth Hacking", "1 hour to stop stressing and stay zen", "The best Lean tools for improving performance"… and the list will grow bigger!
Each new course is our favorite. We are in a continuous improvement process, we learn and we do better each time. It's very motivating. I can't wait for the next course to come out!"