Create a custom playlist in 4 steps
The customised playlist, one of the most requested features by our customers, is available with Coorpmanager! Now you can create your own playlists for your courses with total autonomy and more flexibility.
A course playlist is a list of different courses available on your platform, gathered together in order to learn about a particular topic. Until now, we have offered playlists to our customers, directly accessible in the catalogue. Today, to allow a better customisation of your platform and to give more autonomy to your customers, we offer them a tool to create them by themselves!
Ready to press play?
To create a playlist, simply follow these 4 steps:
1. Define the general information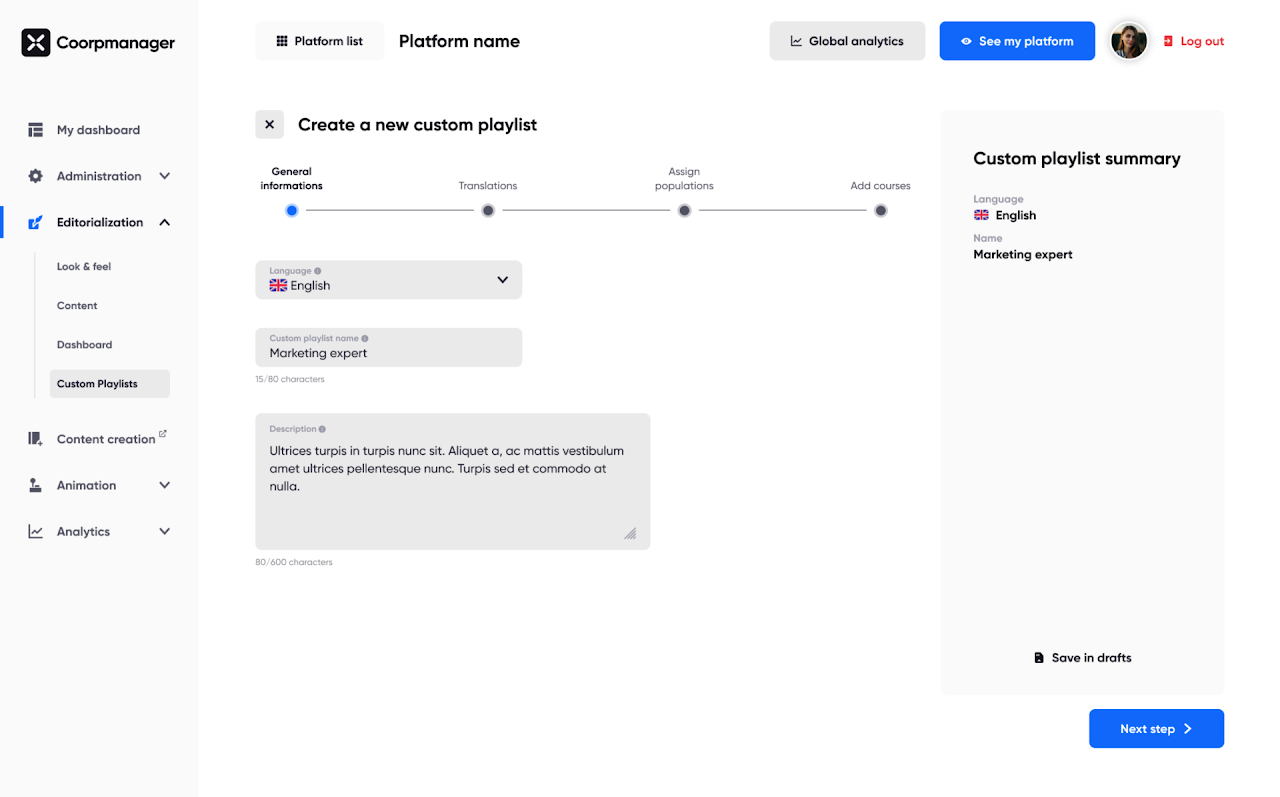 In the scrolling list on your left, go to the "Custom playlist" tab under Editorialization. Click on "Create new playlist". You will be able to start defining the general information of your playlist: the language, the name of the playlist, the description. As you create your playlist, you can save your draft for later editing.
2. Translations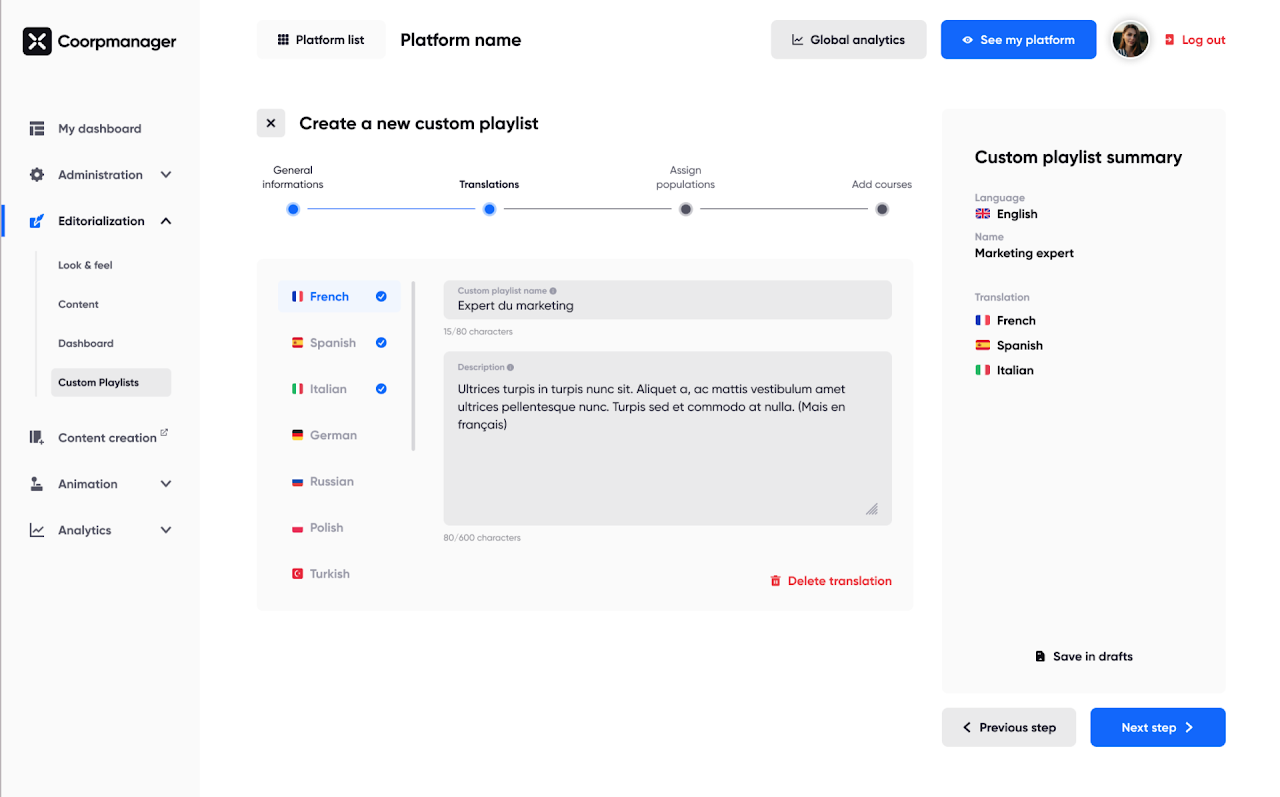 Once the general information has been defined, it is possible to fill in the translations of this information. Translations are not mandatory.
3. Assign populations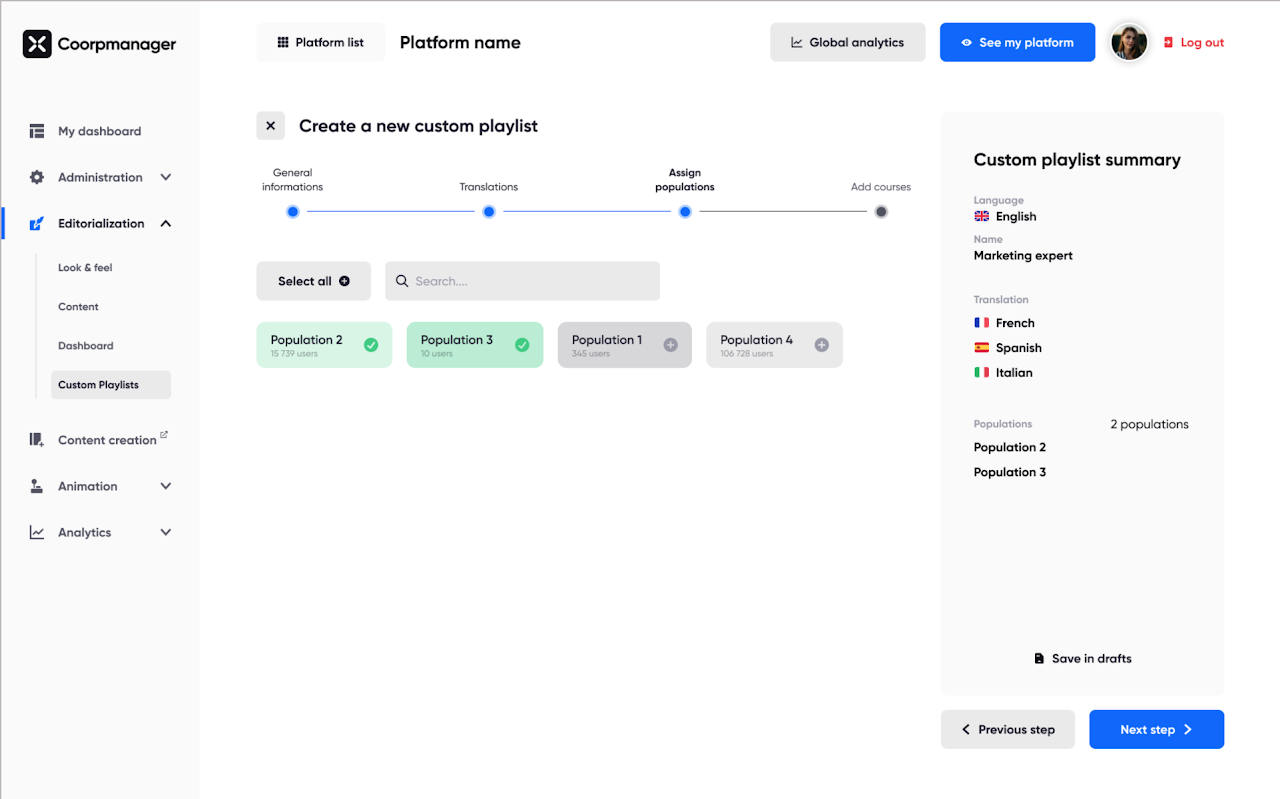 In the third step, you can assign this playlist to the population of your choice, as these populations have already been defined in your platform. You can select different populations so that the playlist is available and visible to them as soon as they connect to the platform.
Two conditions are necessary in order to proceed to the next step:
at least one population must be selected
the selected populations must have at least two courses in common
4. Add courses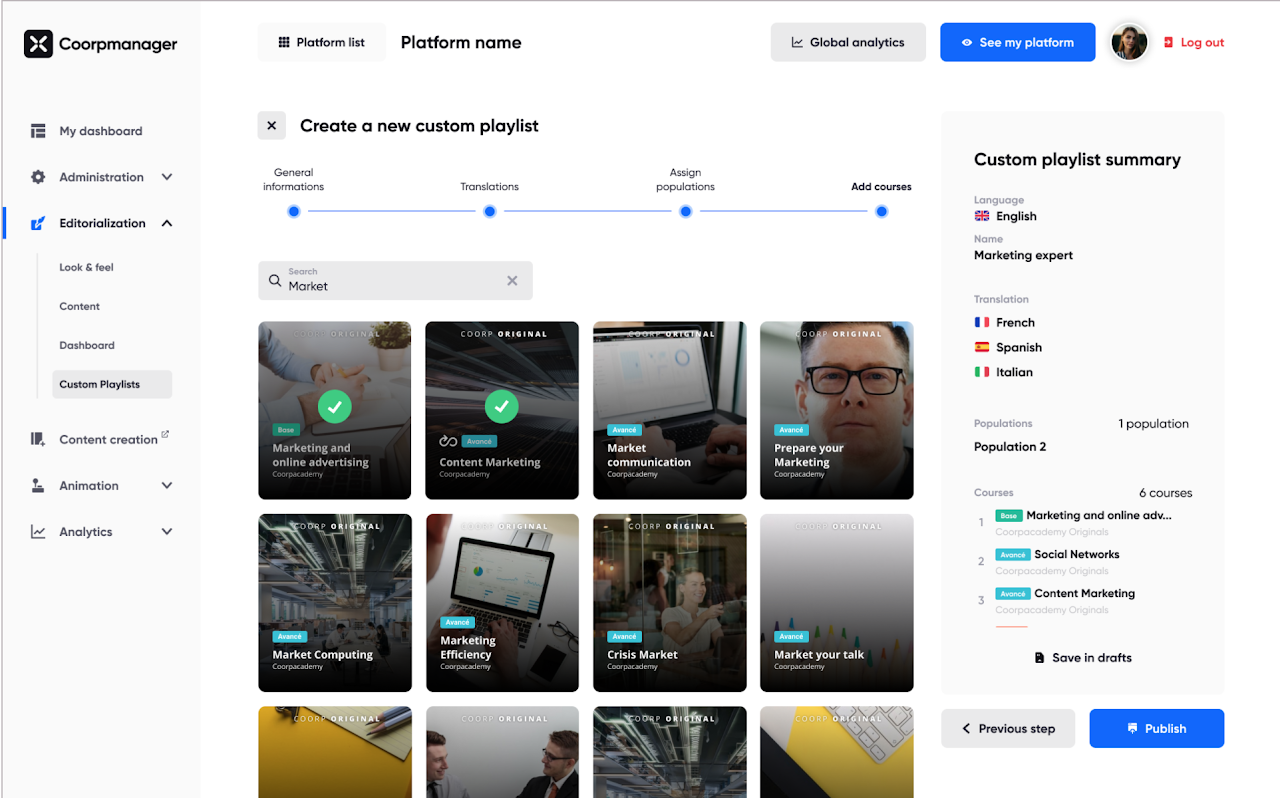 Last step before publishing your playlist! This is the time to select the courses that will be included. The courses are displayed in the default language of the platform. You can refine your selection by using the search bar, or the drop-down menu to choose what type of content you are looking for. You can choose as courses :
Classic courses
Custom courses
5′ learning
External courses (podcast, article, video or scorm)
Once these 4 steps are completed, your playlist is ready to be published! It will be accessible in two places: in the list of published Custom playlists in Coorpmanager. You will be able to edit it, archive it or delete it.
To authorise a user to create playlists, you will need to define the roles within the Administration tab of Coorpmanager. The "User" sub-section will allow you to assign roles and accesses to each user by clicking on one of them and selecting which roles are assigned to them. To give a user the ability to create a custom playlist, you will need to check the Coorpmanager CM Edito box. It is important to note that each role is assigned to the user you designate and not everyone will be able to change it to ensure data security.
Finally, note that a playlist can have several statuses:
Published: your custom playlist is published. This means that it is accessible on your platform from the catalogue and the "Playlist" filter. From the Editing/Dashboard tab of Coorpmanager, it is possible to display the playlist on the homepage of the platform.
Published Ongoing changes: This status appears when a published playlist is edited without the changes being validated. This means that the playlist is still published in its original version. To save the changes, click on "publish".
Draft: the custom playlist is in draft form. This means that the editing of a new custom playlist is in progress and not finished. It is possible to edit a custom playlist in draft to finalise it and then publish it on the platform.
Archived: when a custom playlist is archived, it no longer appears on the platform. You can only archive a playlist that has already been published. If it is archived, it no longer appears on the platform but is still displayed in the Archived tab of Coorpmanager. Via this tab, it is possible to republish the playlist.
Deleted: if you delete a custom playlist, it is no longer accessible on the platform AND on Coorpmanager. It is permanently deleted.