Finally, I got it! I've tried all online learning formats!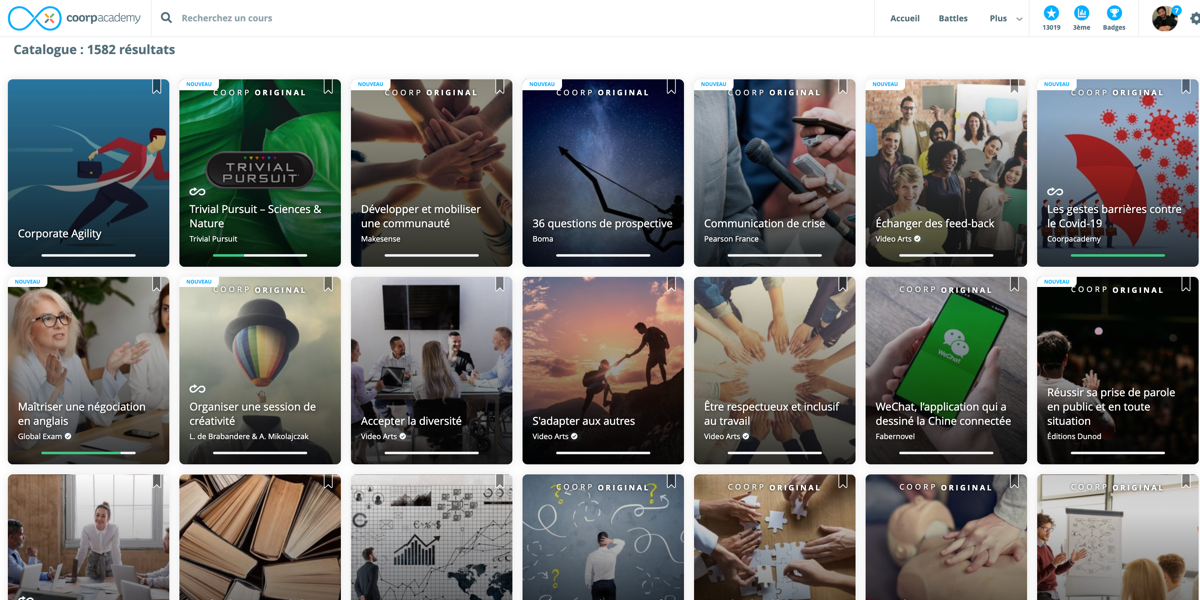 I was deep diving into Coorpacademy's learning statistics used by our R&D Team, looking for figures that would best illustrate how essential it is to offer different formats of courses. When suddenly, an epiphany!
Everyone can remember a sudden flash, this brief moment when you finally understand something, thanks to some trigger coming from various places.
It can be a simple rewording, an observation in real life, a concrete manipulation (yes to Kapla in order to understand subtractions), a re-reading with a clear hear or looking at a diagram or a drawing. It can also come when feeling cornered with relevant questions (How did you make it? Do you remember…?)
---
The mind paths are still a mystery 
Impossible to know the detailed brain maps of each of us in order to offer the shortest way towards understanding and memorizing a notion! The best solution is then to offer, as a digital learning platform, as many vehicles as possible to reach the learner's understanding. Here's a challenge! Which vehicle to offer?
Online courses can be based on images, videos (embodied or in motion design), text, click and rewards! So, is it about putting everything in a shaker and happily agitating it? Actually, no: online courses result from a subtle and high-precision mixture, as in pastry recipes or cocktail recipes (to keep on the extended metaphor). They should absolutely not be indigestible (I'd rather stop the metaphor right here).
However and before anything else, it is really important to understand the basic principles. Courses' videos have to be short, 3-minute videos to make sure they are watched and impactful. The idea is to portion and smartly sequence what is to be learnt using all ingredients available.
---
I would like to share with you the learning recipes and their test results!
1- 5'learning
1 video + 4 to 6 questions
What makes it unique? 😋
* A very specific notion is handled in a 5-minute learning nugget, or microlearning.
* Questions can be answered before or after the course, according to your need or level.
* Perfect before a meeting, a flight or during commute!
2-  CLASSIC format
9 vidéos (+ PDF) et questions associées.
This is the most common format we use. It is built in 3 levels (Basic, Advanced, Coach) with a coherent succession of dozens of 5'Learnings.
What makes it unique? 😋
* Progression: if you answer all questions very fast, it probably means you already reached this level of expertise. You then spend less time in what you already know (you don't have to follow a course beforehand, or to watch a video), and you can spend time on what you don't already know and what your really want to learn.
* Curiosity: you can learn with the course video, but with the questions too! Each answered question will provide a Key Learning Factor and a "Did you know that?" in order to spark your curiosity and make you learn other things on the topic!
3- THe assessment
From 5 to 40 questions, without video
Series of questions, without videos, to assess your level. The platform will them take you to different learning paths according to what you master and what needs to be improved!
What makes it unique? 😋
* Qualitative and personalized feedback at the end of the assessment are so much more valuable than a simple grade.
* The assessment improves the knowledge stickiness.
4- The Immersive format
Number of videos and questions can vary (but is not arbitrary!)
The principle is to simulate a real situation so the learner can play "as if". Learners can train and apply their newly-learnt knowledge. They can draw their own learning pathways and be oriented by the platform according to their knowledge.
What makes it unique? 😋
* Nothing's more valuable than learning by doing – even virtually – and learning from your mistakes.
* You can start and restart as much as you want, and take advantage of the recommendations at the end of the course to keep improving.
4-1- Mini-series
12 to 15 videos and 1 question after each video
Last-born in the immersive format family 👶: the mini-series co-edited with our partner Video Arts.
This course will teach you how to be assertive in the workplace. Through series of funny, played by actors short scenes, you will see what needs to be done to be assertive, but also what needs to be avoided.  Like in the video example below…

After this, it'll be difficult to mix up aggressiveness and assertiveness…
To memorize even better, a question will be asked at the end of each videos. An efficient – and addictive – format!
4-2- Courses where you are the hero
Like in a video game, you decide what to do next! By following your path, you'll end up on your own personalized result. This format is adding learning in a Bandersnatch-like course!
What makes it unique 😋
* Scenarios! Different learning pathways, multiple endings… This playful format makes sure the learner is engaged and is enjoying learning (the content is validated by our team of instructional designers).
* Several variations exist on the Coorpacademy platforms, and they depend on the pedagogical goal we want to reach.
Drama will unleash your inner creativity!
One of our latest role play course focuses on creativity, a skill very adapted to the multiplicity of scenarii. Guillaume Lafon, instructional designer at  Coorpacademy worked with the authors Luc de Brabandere and Anne Mikolajczak, both specialists of corporate creativity. Luc is an engineer and a Fellow at the Boston Consulting Group, Anne is a philologist.
But he also worked with Mathilde Gentil, professional script-writer and founder of  the Gosh Theater Company, who produces "role play theater", where the audience is active and makes decision about what will happen on stage! In this course, you'll discover that anyone can learn to solve problems creatively: you just need to apply the right method! And if you also thought that there are not that many solutions to the same problem, you will be surprised to discover that in this course… there are 32! It is up to you to play and replay this course to learn how to organize and facilitate a creativity session, share the pleasure of ideas and, who knows, reveal the creative soul lying dormant in you!
We promise you plenty more innovations to come, that will be as exciting as our latest online Escape Game. By the way, the record time to solve the Black Hole Escape Game is 15 minutes…  If you think you can do better or if you simply want to try it out, click here.
---
To sum up, all our existing courses' formats use available online resources (video, image, text, sound, animation …).  Each course type takes advantage of a unique combination of online resources, that will activate the triggers  enabling us to understand a new skill or notion.
By referring to the initial and empirical list of these triggers, I finally and fortunately find them all, at different levels, depending on the format. The triggers attached to role-playing situations or manipulations are very strong in immersive formats; those linked to reading or visualization are almost everywhere, in videos, subtitles, lessons' PDF; those about rewording or questioning are also very present thanks to the special design of questions and answers strengthening their impact and allowing a great freedom in learning where you can answer question first before viewing the course (i.e. flipped pedagogy).
Each mind can use the format that best fits it, everyone can use the vehicle that best suits them!
---
Bérangère Chauvenet