Inauguration of the Swiss EdTech Collider – EPFL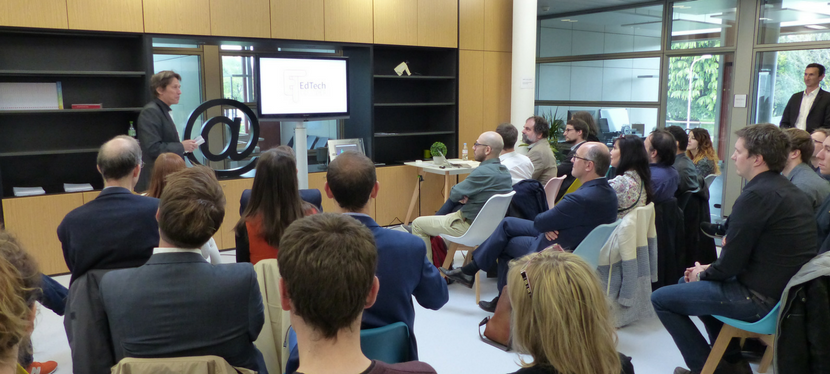 On 27 April, the Swiss EdTech Collider was officially inaugurated at EPFL's Innovation Park. Over 200 people were present for the opening of Europe's first accelerator dedicated to EdTech on the campus of Lausanne's Federal Polytechnic School. 
"Specialized incubators already exist in the field of fintech or medtech, but none for education technologies. Yet it's a rapidly growing market, particularly in London and in the USA."

Professor Pierre Dillenbourg, president of the Swiss EdTech Collider – Le Temps
This accelerator hosts around 30 startups, among which Coorpacademy, one of the first to join the project.
"In order to prepare for the future, Coorpacademy just settled [in the Swiss EdTech Collider] at the Federal Polytechnic School of Lausanne (EPFL), in Switzerland, a campus dedicated to education, new technologies and artificial intelligence." – CNEWS-Live
"By bringing together entrepreneurs invested in EdTech and EPFL professors conducting pioneering research in that domain, this ecosystem aims to become an international hub for digital education… The members of the Swiss EdTech Collider wish to answer the challenges of an increasingly digitized society from primary school to continuing education, including corporate training." – ICT Journal
Here, 30 startups will be reinventing the education of tomorrow
"Let's put these startups together and things will start bubbling, something will happen." Professor Pierre Dillenbourg – RTS
Among these startups, some caught our attention, such as:
Simpliquity develops learning environments mixing traditional tools with technology (augmented reality, simulations…). The result combines the best of both worlds. The objective is to help professors and enable them to better transmit knowledge to their students.
Ekstra Reality is an online platform through which users can learn while having fun in a variety of domains thanks to virtual reality. With Ekstra Reality, you can paint masterpieces using virtual reality, for example.
Taskbase is an application that helps professors prepare their classes in a more efficient way by providing them with class resources and exercises.