Training in the midst of transformation: a look at the impact of the pandemic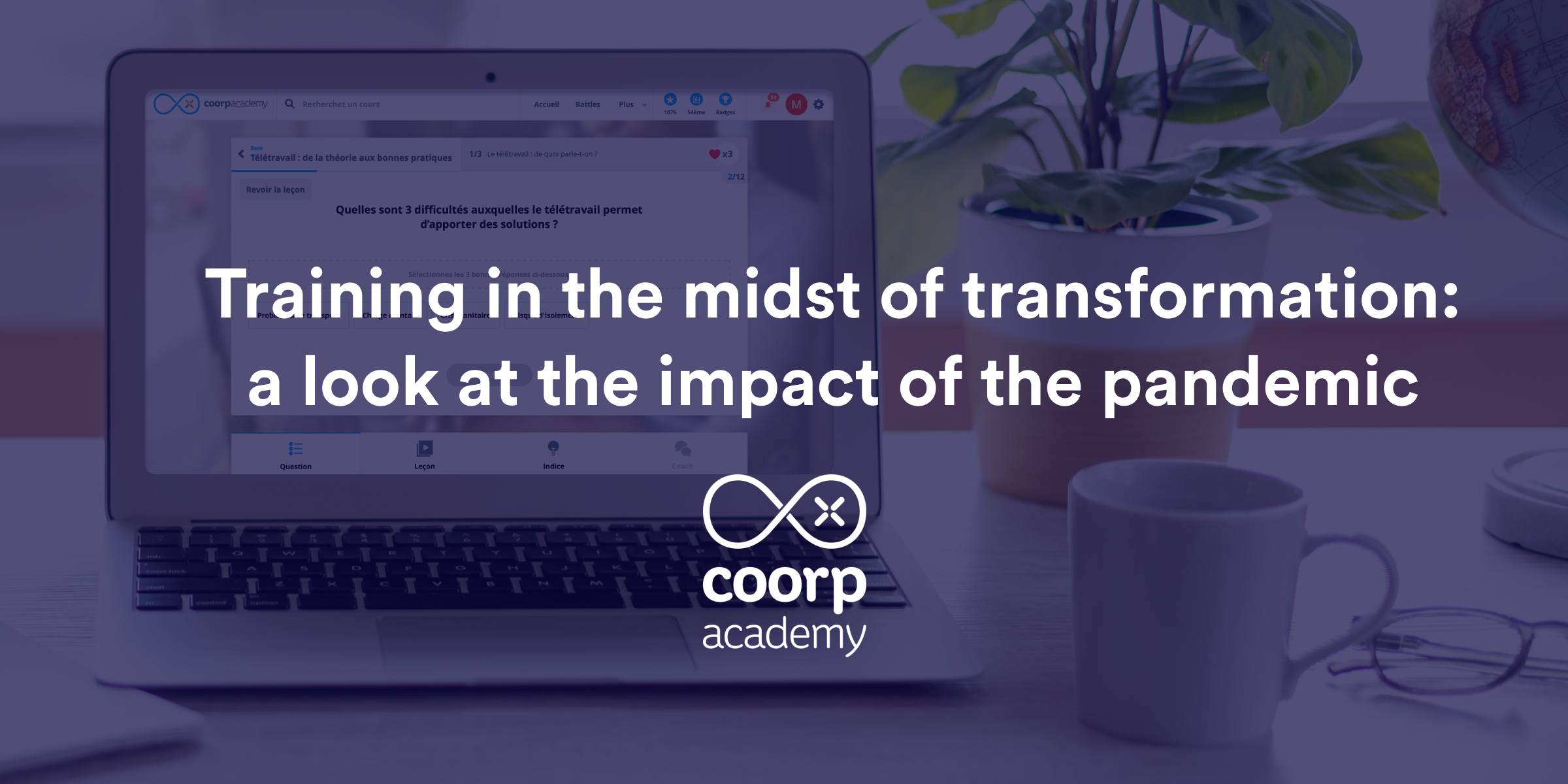 This Wednesday, June 16 at 6:30 pm, Jean-Marc Tassetto, co-founder and CEO of Coorpacademy, will participate in a roundtable discussion on the impact of the pandemic on the EdTech sector in France. During this round table, co-founders and investors of leading companies in this sector will discuss their vision of the future of education following this pandemic that has disrupted the uses. In anticipation of these discussions, discover this article that set the context of post-COVID digital learning.
Educational technologies, commonly referred to as EdTech, represent digital solutions that are revolutionizing the learning experience, through mobile apps, learning platforms, and other mediums. 2020 has redrawn the contours of learning, adapting to the exceptional measures that have been imposed on us, and thus shaping new uses. To say that learning is changing is an understatement. It is transforming.
We have been told for months: stay home! And for the better good. However, this measure raises a major question: how can we ensure that continuous learning is maintained if we are individually isolated at home? To address this issue, we had to implement solutions and take full advantage of the tools at our disposal. Thus, the use of new technologies, which was already obvious for some, has become indispensable for all. Both for educational institutions, which had to organize themselves to guarantee access to education and for companies, which had to reorganize teams and introduce remote working measures, while ensuring remote team training. The use of digital technology has therefore become vital to meet the challenges created by the pandemic and to ensure the smooth running of organizations despite the constraints of this unprecedented context.
The first lockdown allowed the French population to integrate the new digital uses more permanently and intensely. For institutions, distance learning has been adopted very quickly and for companies, between remote working and online training, the use of digital technology has made considerable progress. We are moving towards an era of digitalized training, where digital tools feed the learner's experience and reinforce the pedagogy. Farewell to the traditional face-to-face courses and the dusty e-learning: they are reinvented to offer a digital learning experience that better adapts to individuals, their learning styles, their educational content consumption habits, and their life rhythms.
To constantly improve the learning experience and adapt to the world in which we evolve, it is necessary to rethink educational formats and ways of delivering information. It is certain that our attention spans are impacted by the use of digital technology, especially with social networks and the culture of immediacy. Accelerated by the COVID19, the use of digital has increased, shaping new habits, which are the beginnings that will shape the of the future of education and training in companies.
To learn more about this future, don't miss the roundtable discussion on June 16 at 6:30 p.m. organized by Speedinvest, which will feature the leaders of the EdTech sector in France: 
Jean-Marc Tassetto, co-founder & CEO of Coorpacademy
Pierre Dubuc co-founder & CEO of OpenClassrooms
Charles Gras co-founder of Simbel
Benoit Wirz partners at Brighteye Ventures
Register for free to the round table by clicking here.