The Principality of Monaco success digital learning story will be presented at Gartner ReimagineHR London 2019!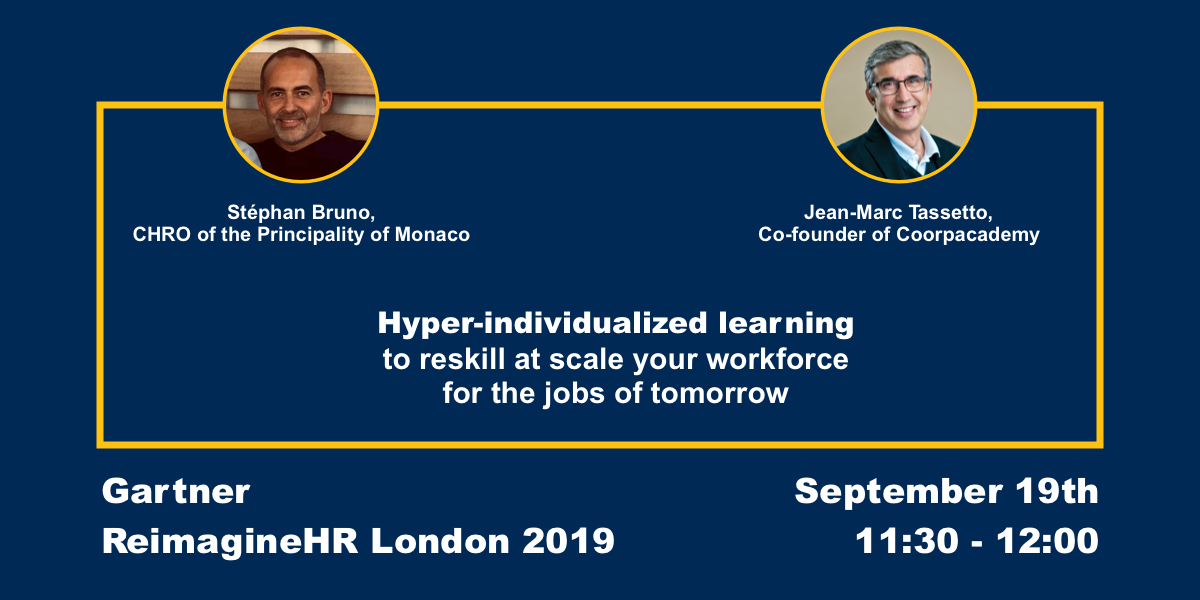 Reimagining the Future of Work. 
At the Park Plaza London on September 18-19th, 500+ HR professionals will gather during this 2-day event around 7 tracks reimagining the future of HR and HR Executives from all across Europe will have the chance to attend 28 Gartner-led, insight-driven presentations.
Brian Kropp, GVP and Chief of HR Research Gartner, will do the opening keynote on "How HR Can Reimagine Work to Drive Performance."
He says: "While important, things like artificial intelligence and automation are only part of the future of work story. Along with these conspicuous shifts comes a number of underlying trends — like rising transparency, or new work habits — with the potential to fundamentally change how work gets done."
Brian will highlight the fundamental HR stakes facing the rise of AI and automation while focusing on the opportunities created by these shifts – opportunities most HR executives are usually unaware of.
During this event, Top HR trends and challenges will be explored in order to reimagine the future of work, through keynotes, one-to-one meetings and roundtables.
Digital business transformation, innovation, the rise of artificial intelligence

… These issues are at organizations' heart talent issues and companies will only succeed at addressing them if they have the right people with the right support. 

We are in a period where we have unemployment rates for critical roles that are as low as 1%

in some cases. For many roles, employers can't find enough candidates. 

Artificial intelligence, the gig worker, candidate and employee transparency, analytics

carry a potential to fundamentally reshape the HR function. 

There is more visibility than ever before

– through channels like Glassdoor and Indeed, but also through internal communication tools – into things like compensation, manager quality, and what it's like in general to work at an organization. 

Talent management issues have hit the agenda of the C-Suite and the boardroom in ways they haven't historically

– through issues like workplace harassment and discrimination, and also through deeper attention from the investor community to the impact of talent management on business performance.
Having the right people with the right set of skills to thrive in this complex new environment.
Digital business transformation, AI or automation are creating opportunities. But organizations will manage to thrive in this future only if they have the right people with the right set of skills. Jean-Marc Tassetto, co-founder of Coorpacademy, was saying in his latest article, published in Finance Derivative: "As a result of the kind of seismic drivers of employment change taking place in all industries […], it is becoming more imperative that we all manage our long-term employability. Businesses, public institutions, large and small organizations – everyone's at risk – that don't equip their workforces with the tools to help will not be able to compete – shrinking, or even disappearing, as disruptive new players better prepared to help their teams develop the skills they need will take their place."
A success Learning story. 
That is why the Government of the Principality of Monaco has confirmed Coorpacademy as its new digital training platform to underpin Monaco's strategic transformation programme, Extended Monaco – a plan to digitise all of its public sector and economy.
In this context, the Principality's government is launching a digital university, the Monaco Digital Academy, with a detailed training syllabus for its 3,600 public servants and agents in order to help them transition successfully to new way of working and processes.
Stéphan Bruno, Head of Human Resources for the Government of the Principality of Monaco, and Jean-Marc Tassetto, CEO of Coorpacademy, will present the project to the audience during a keynote on September 19th à 11:30, under the theme of Hyper-individualized Learning. 
Stéphan Bruno explained the choice of Coorpacademy: "We wanted to create a training offer for our public service teams that is accessible, fun and diversified, and not limited to job skills. The user-centric learning experience offered by the Coorpacademy platform and the depth of its catalogue of courses elaborated with experts offered what we were looking for."
"We are proud to have been selected as a core training supplier for this strategic digital plan that will impact all Monaco's public policies," adds Jean-Marc Tassetto, co-founder of Coorpacademy. "The importance of training in the strategy of the Principality's government and leaders demonstrates the ambition of this plan and their global understanding of the issue of digital transformation."
Discover insights about this training project.
If you're in London on September 18-19th, comme meet the Coorpacademy Team!
"Hyper-individualized learning – How are the best companies and organisations in the world reskilling at scale their entire workforce for the jobs of tomorrow", on Thursday 19th September at 11.30 – 12.00, Park Plaza London.
We're looking forward to seeing you at this event!