Sitting down with James Lawrence, Founder and CEO of Knightsbridge Trading Academy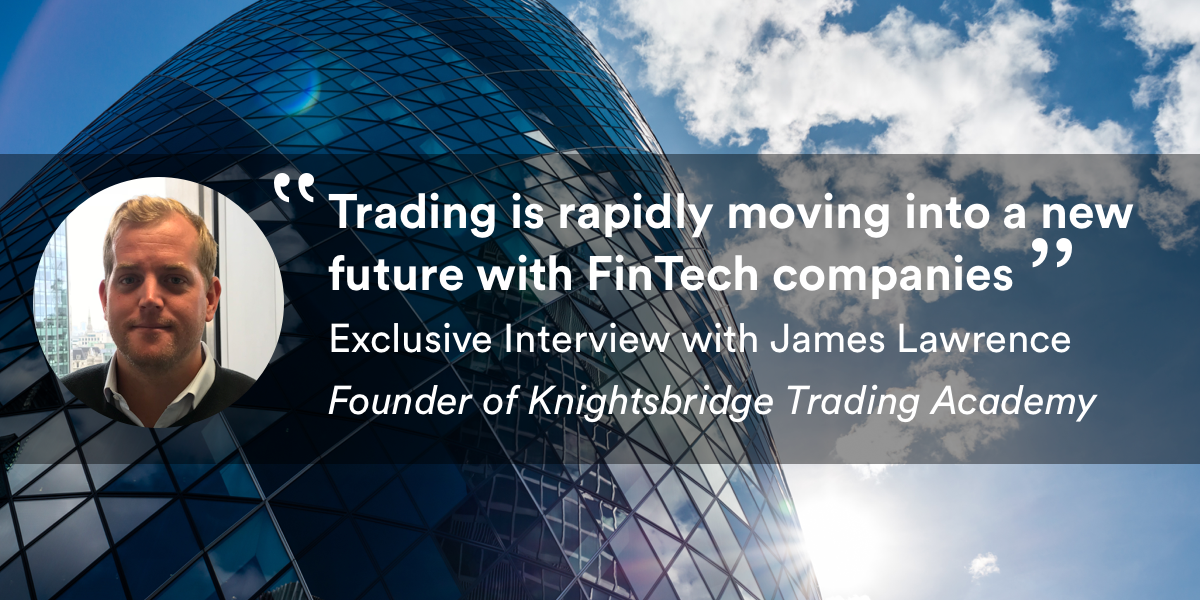 Knightsbridge Trading Academy aims at developing the trading skills of their students by equipping them with the latest strategies and technology. Their programmes will help students learn to earn from the elite traders, CISI accredited tutors, brokers and financial analysts in the industry, who have worked for some of the most prestigious institutions in the world. Their tutors have a combined experience of over 75 working years in the financial sector. Their mission is to improve clients' understanding of trading and investing, along with their general understanding of financial markets. Knightsbridge Trading Academy – in association with the London Stock Exchange Group Academy – has developed a programme designed to improve investment strategies using fundamental and technical analysis, investment psychology, risk management, asset allocation and how to interpret news.
It's a new recent addition to the Coorpacademy catalogue. Knightsbridge Trading Academy has co-edited two courses on the platform, which aim at explaining to learners the key principles of trading, from the stock exchange to the different types of asset class. These courses are also giving tips and techniques for traders. Following the release of these two courses, we had the chance to sit down with James Lawrence, Chief Executive Officer of the trading academy, who answered our questions.
"Thanks a lot for your time. Before joining and founding Knightsbridge Trading Academy, what were you doing and what made you want to create a trading academy?
Prior to founding Knightsbridge Trading Academy I worked in financial markets as a FX & Equities broker, working with mainly private clients and corporate customers. I decided to found Knightsbridge Trading Academy largely due to becoming frustrated in the poor quality professional education available in the marketplace, more specifically FX (Forex – Foreign Exchange Market) related education designed for retail customers. Unfortunately financial education is not a regulated activity in the U.K. (it is in Australia). This leads to many FX educators making wild and misleading statements and have a "get rich quick" style theme.
I decided to work towards operating in a highly professional and expert manner only providing factual information, providing complete transparency. Today our programmes are fully accredited, some by multiple accreditation bodies and Knightsridge Trading Academy is accredited by the British Accreditation Council for Independent Further and Higher Education as a Short Course Provider unlike any other company which sits within our competitive landscape.
For a lot of people, trading can be unknown, sometimes obscure. How do you think your courses are creating a new, fresh way of looking at trading?
All our programmes are designed for people with little or no experience. Financial trading can seem daunting, this is one reason we ensure our trading programmes are accredited. We provide our students the assurance our programmes have been laid out in a format a student can understand and digest.
We provide a methodology whereby delivering small bite size video programmes followed by short exams, and once students understand the basics we move into a more intermediate learning process. Our programmes are a mix of theory and practical based learning, so students can adopt what they learn into live trading environments.  There is still some demystification needed to break down perceptions to who can learn financial trading. We have trained hundreds of students all from varied walks of life.
In the actual – and future economy – how do you think trading will evolve?
Trading is currently moving into a new future at a extremely fast pace with the use of technology and fintech. Today it's easier than ever to create strategies and use Machine learning & Artificial Intelligence to trade more efficiently without human errors.
We work alongside several universities creating strategies designed in Machine learning & Artificial Intelligence. Whereby training robots via Artificial Intelligence allows a trader to trade the markets seamlessly, create strict risk parameters, create rules based systems without technical errors made via counterparts…
Do you think a better common knowledge in trading – for everyone – can help avoiding further economic crisis?
I think that general people and businesses will make better informed decisions if they fully understand the risks associated across all asset classes of finance including what drives these assets & markets.
Your training include accredited, 2 day classroom bootcamps, 5 day classroom programme and 5 week online trading programme. What do you think about short micro-learning Corporate Digital Learning and how it can be complementary with your programmes?
It's a great concept and allows users to digest smaller content in there own time, either during or after work hours. The digital learning programme provides a great foundation to our more dedicated industry specific programmes we offer. In this two courses, learners can train on the principles of trading, but also some tips and techniques, using new teaching methods. By using flipped pedagogy, learners start with the questions – if they know, they pass the questions, if they don't, they access the video lesson from Knightsbridge Trading Academy. The fun and social aspect of the course also allows learners to access knowledge in a more engaging way, by competing with their peers on the different types of asset class, for example.
Thanks a lot for your time, James!
Thank you!