A youtuber joins our exclusive list of premium publishers!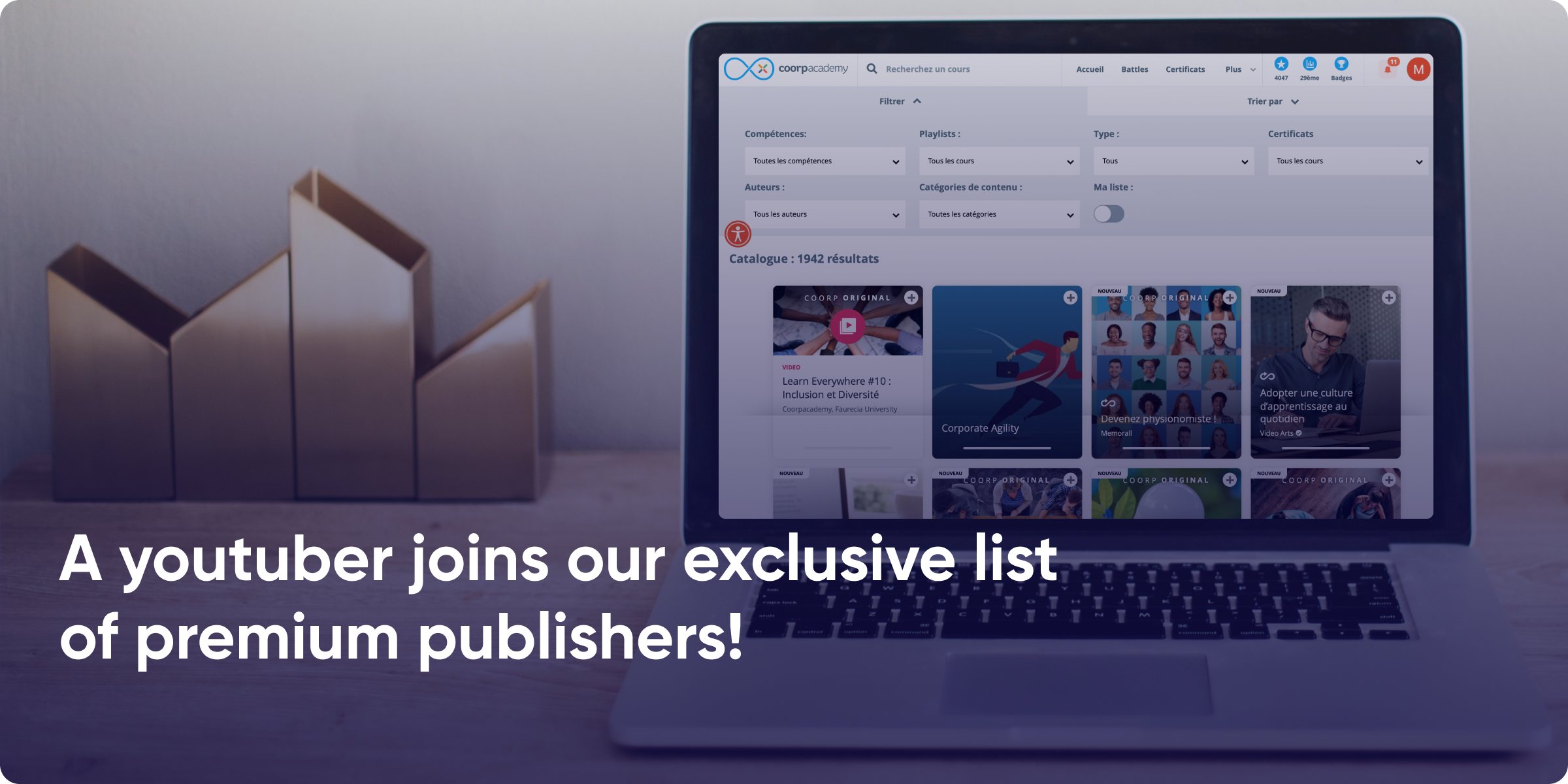 Not all training content is equal. Indeed, as Arnauld Mitre, co-founder of Coorpacademy, explained back in May 2020, "one of the big problems with the learning and training industry, which is a content industry, is thinking that content that has the same name as another is worth the same."
At Coorpacademy, our off-the-shelf course catalogue contains over 1700 courses which are updated regularly and new courses are added to the catalogue every month. In order to offer premium course content, we work with experts to co-edit our courses.
We have recently added new partners to our catalogue, such as Mandarine Academy for training in office automation tools, 7-Shapes for training in Lean Management, and most recently the French youtuber Florian Manicardi, French memory and speed-reading champion and founder of Memorall, a company that provides training in memorization, speed-reading and mind-mapping techniques.
The integration of new partners gives us the opportunity to review the different types of course co-publishers with whom we enrich our premium training catalogue.
Editors
Bescherelle
Bescherelle is a brand of the Hatier publishing house, which publishes numerous school, extracurricular and youth books. Today, the Bescherelle range offers, in addition to references, works on history, languages, the subtleties of the French language, but also family games. With 1 million books sold each year, Bescherelle is the reference in French language. Historically innovative, the brand has developed a free training website and two reference applications, Bescherelle Conjugation and Bescherelle Synonyms, which have sold over 150,000 units to date.
Dunod Formation
1st business publisher in France, with strong names such as Mercator, Strategor, Communicator and emblematic collections such as La Boîte à Outils, 5 Keys or 2h flat, Dunod has never stopped innovating. From books to digital learning, Dunod successfully supports your employees in their training needs, on business themes but also on soft skills, with proven pedagogy and a strong commitment objective. Dunod now relies on the expertise of its best authors to offer you exclusive digital training with CoorpAcademy. Dunod is a publisher of the Hachette Livre group.
Éditions Eyrolles
A family group and independent since its creation in 1925, Eyrolles is in the top 20 of the French edition. Both publisher and bookseller, the Eyrolles group now offers e-learning training in partnership with Coorpacademy. These training courses come from the most emblematic works written by the best authors of the publishing house.
Wolters Kluwer
Wolters Kluwer France is known and renowned in France with the signatures Lamy and Liaisons Sociales. Specialized in law, taxation, finance, accounting, risks, compliance, health and their applications in business, the experts support their 100,000 professional clients in their strategic and daily decision-making. They offer paper and online legal editions, management software for law firms, training and conference offers, as well as a service for announcements and legal formalities. This training was designed by teams specializing in three areas: Compliance, Digital Risks and Enterprise Risk Management.
Press
Challenges
Challenges is a weekly French business magazine, covering the main economic events in France and abroad. All the economic news is in Challenges: budget, consumption, public finances, economic situation, taxation, growth. Files, analyses of the greatest economists, strategies, practical investment and investment advice, Challenges magazine makes the economy clear and exciting!
Capital
Brand media, Capital helps to better understand and live today's economy. Capital brings the world closer to the economy of everyday French life. Capital decrypts, unveils, advises to enable its readers to make the right choices in a society where everything is economy.
Forbes
Forbes is a quarterly digital and paper magazine dedicated to entrepreneurs and decision-makers who want to follow business, finance, management and technology news.
Management
Management is the reference media brand for those who are involved in their lives and want to progress according to their desires. It is a magazine, specials, books, communities and online courses all at the same time. Their mission: to help give meaning to work in order to enjoy it more and ensure that it is no longer a goal, but a means. The aim of the magazine is also to show the company in 360 degrees but by getting back to the basics and the one thing that really matters, you.
Science & Vie
The leading European magazine for scientific news, Science & Vie strives to provide a clear, readable explanation in the fields of science and technology. Science & Vie investigates, is enthusiastic about real discoveries, denounces false truths. Science & Vie offers the keys to understanding the present, exploring the world, dreaming of the future.
Usbek & Rica
French quarterly magazine created in 2010 by Jérôme Ruskin, Usbek & Rica explores the future. Is technical progress always synonymous with human progress? How to remain human in the ultra-technologized world that we are promised? By playing on the astonishment dear to the characters of Montesquieu's Letters persanes, from which its title is directly taken, Usbek & Rica questions the fastest and most dizzying upheavals in our history.
Product experts
7-Shapes
7-Shapes offers training courses in Lean Management and Supply Chain based on an interactive business simulation. Learn by immersing yourself, interacting, making mistakes and then success is our motto! Several thousand people have already trained with 7-Shapes School, so it's up to you!
Fabernovel
FABERNOVEL was founded as an innovation company in 2003, and has offices in Paris, San Francisco, New York, Shanghai and Lisbon. FABERNOVEL INSTITUTE works to develop a digital and entrepreneurial culture among major companies' managers and employees. FABERNOVEL INSTITUTE's mission is to realign employees' viewpoints to make them active participants in transformations within their professions and organisations.
Global Exam
GlobalExam is the leading EdTech start-up for mobility and employability of students, employees and jobseekers. We offer everyone the opportunity to enhance their language skills by obtaining the highest score in internationally recognized certifications. The trainings are prepared by professionals with specialized programs, assessments and situations in 5 languages (Spanish, English, German, French and Chinese). Today, GlobalExam has enabled more than 300,000 users to pass their language certification and support more than 450 higher education institutions and training organizations in France and 20 countries.
IBM
IBM has positioned itself for more than 100 years as the privileged partner of companies by providing them with the most complete range of resources – skills, systems, software, services, financing, technologies – to help them differentiate themselves in their market and their enable them to become innovative companies thanks to their data and cognitive systems, in the cloud, around the customer experience. For more than a century in France, IBM has been building the foundations of a world based on intelligent and interconnected systems and on new IT architectures, thus contributing to the transformation of the French economy and society.
Institut François Bocquet
Every year, the François Bocquet Institute organizes more than 1,000 talent development training courses around Europe. More than 150.000 professionals have been trained, and even transformed, by the Institute since 1986.
Learn Assembly
Learn Assembly is a learning company that designs innovative learning experiences for healthy and sustainable employability and offers online B2C training on many subjects: digital learning, animation of a virtual classroom, training marketing …
MySezame
MySezame is a training organization specializing in impact business topics. We are experts in impact business: we engage and train managers and their teams in business transformations and innovations linked to societal issues. Our ambition is to create a shift of individuals in the company to engage them in collectively redesigning business and success models, in order to make the economy sustainable, sustainable and inclusive. MySezame is one of the 100 French companies to be certified "B Corp", the label for companies committed to the common good.
Numa
NUMA is the School of the future of work, providing solutions for continuous and engaging learning experiences for individuals and corporates all around the world. Created in 2000, NUMA created Paris's first entrepreneurial association, first coworking space, first startup accelerator and first open-innovation program. NUMA is today a key player in championing the startup culture and instigating innovation worldwide through training. This course features internationally acclaimed author and executive coach Jeff Gothelf and Claudio Vandi from NUMA.
The Data Touch
The Data Touch contributes to the success of businesses by providing them with tangible results from the exploitation of Internet data. The Data Touch also offers in-company data training to increase employee skills. The products and services offered include: the production of machine learning prototypes aimed at predicting results centered around company objectives, the creation of a data culture within companies, the implementation of data initiatives around online consumer behavior and Internet performance in general.
Video Arts
Learning is often designed to fill learners with facts and information. This is great if you want to increase their understanding of a subject, but what if you actually need to change their behaviour? Simply put, video allows complex ideas about human behaviour to be put across in a short space of time. And Video Arts gets the message across in a way that your learners won't forget. Since the company was founded in 1972 by John Cleese, our learning content has become famous for stimulating, engaging and entertaining people, triggering them to think, feel and do things differently.
People
Olivier Sibony
Olivier Sibony is Affiliate Professor of Strategy at HEC Paris. Previously, he was a senior partner at McKinsey & Company, where he spent 25 years advising executives of global companies. He is the author of articles in various publications, including Harvard Business Review, McKinsey Quarterly and California Management Review.
François Fourcade
François Fourcade has worked for 15 years in a major international automotive supplier. After a PhD thesis in Strategy and Innovation Management realised at the Management Research Center at the Polytechnique school in Paris, he left the industry to return to one of his passions: teaching and pedagogy. He helds now the position of Associate Professor at ESCP Europe, based on the Paris Campus. He coordinates several courses in the Master in Management programme: The Management Control course (Master's Level) and the Business Planning elective course. He is experimenting numbers of educational innovations, including the HEC Executive Education Continuing Education Platform. François Fourcade also participated in the writing of a collective work entitled " Pour en finir avec le management efficace " (Pearson, 2015).
André Tordjman
André Tordjman is the CEO of the store, Little Extra, which he founded in 2005. Little Extra is a low-price lifestyle brand. Designed to recreate a loft environment, the stores are dedicated to everyday items for the kitchen, bathroom and children. Little Extra currently has 18 stores in France and an e-commerce site. Before becoming an entrepreneur, André Tordjman lectured in marketing at HEC for more than 15 years and worked as the marketing director of the Auchan Group for seven years. André Tordjman has written several books and has had several articles published in international magazines. He was awarded the Paul Nicolas prize by the 'Académie des Sciences Commerciales' for his book, Stratégies de concurrence dans le commerce, as well as the 'Thèse d'Or' award for his research in the field of distribution.
Grégoire Sentilhes
Grégoire Sentilhes, a serial entrepreneur in Europe, China and the US, provides an innovative and global vision of the entrepreneur's transformative role in the third industrial revolution that is reshaping the world. Based in Paris since 2002, he is the president and co-founder of NextStage AM, one of the major players in capital development, which won the Gold Award for the best Growth Equity Fund in Europe in 2015.
L. de Brabandere & A. Mikolajczak
Of very different training, one engineer, corporate philosopher and today a "Fellow" at the Boston Consulting Group, the other philologist, Luc de Brabandere and Anne Mikolajczak have worked together for more than 35 years and have led dozens of creativity seminars in companies. An experience that inspired them to two courses: the first on cognitive biases, the second on creativity methods. Recently, they also run introductory seminars in philosophy. It is the practice of this discipline that led them to take an interest in the art of argumentation. If after this course, you want to know more and go further, we recommend that you read Petite Philosophie des arguments fallacieux (Eyrolles 2021).
Entertainment
Trivial Pursuit
Do we still need to present the very iconic and 40-year-old Trivial Pursuit? Invented in 1979 and released in 1982, the game Trivial Pursuit has passed through generations of competitors and has sold over 100 million copies worldwide (in over 30 countries). Through a series of courses addressing the 6 emblematic themes of the game, Hasbro, Trivial Pursuit and Coorpacademy offer a shared vision of learning: giving access to general culture – a soft-skill, invaluable during a meeting or during a meeting. a working lunch – in a fun, engaging and entertaining way.
Clue
A manor, six characters… a murder! Clue, the most famous deduction game, imagined by Anthony Pratt and his wife Elva, was first put on sale in 1949. Decades – and multiple versions and adaptations (movies, series, video games, comics…) – later, its success is still undeniable. Through the Clue: Murder on Skill Island educational investigation, Cluedo, Hasbro and Coorpacademy team up to offer an entertaining learning format where your critical thinking skills will be put to the test.