It is better to have 1 engaging course than 1000 boring courses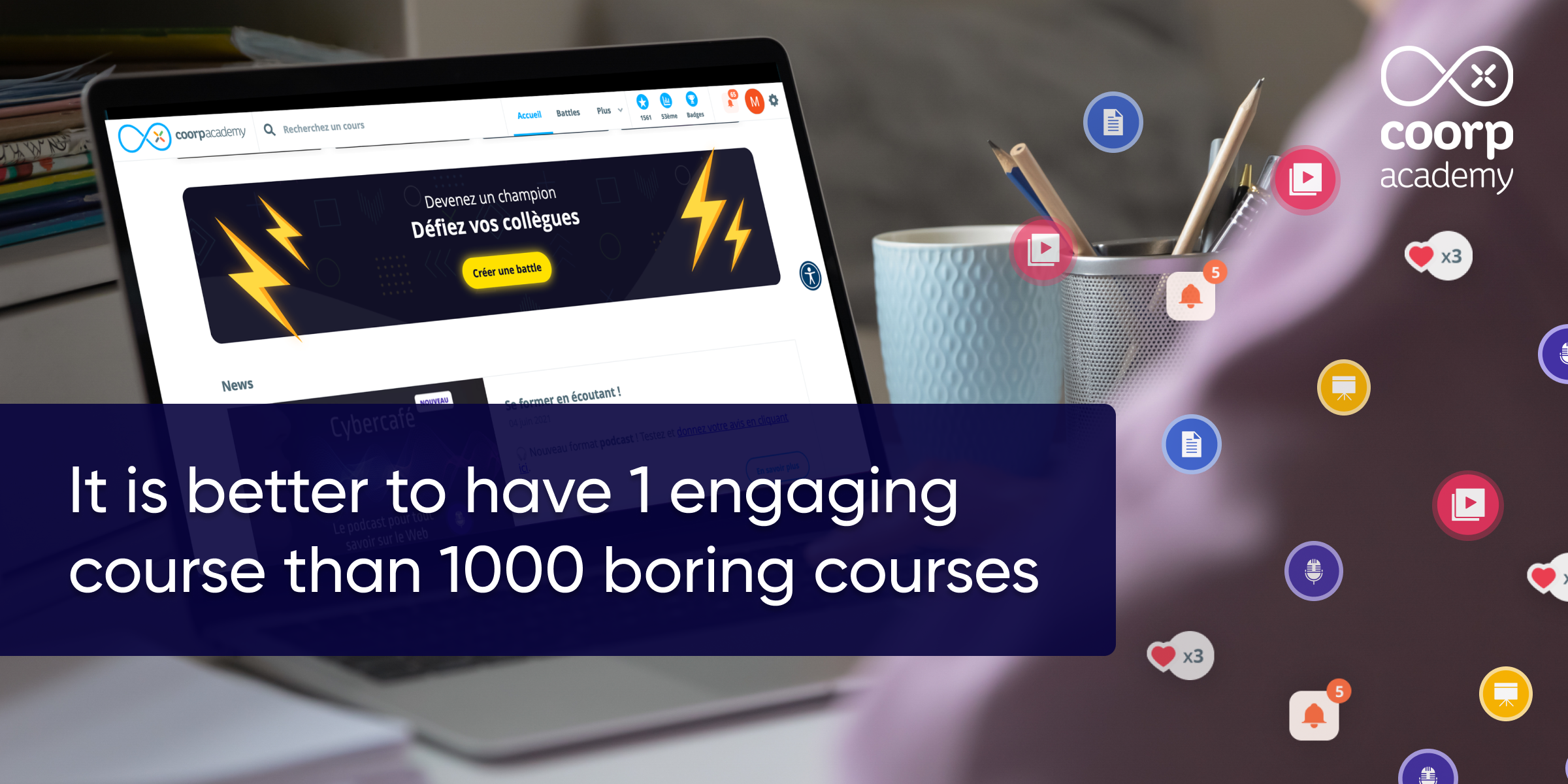 Most Digital Learning providers rely on a platform that provides a large library of content from various experts to cover as many topics as possible. While this may be a useful argument for HR decision-makers looking to provide employees with as much training content as possible, is it really the best approach to effective learning?
Wanting to learn
Do you remember, in high school, when looking at the clock slowed down time? Strangely enough, as soon as you participated, time returned to its normal course… Today, thanks to cognitive science, we can explain this phenomenon in a rational way. During our schooling, we get used to learning in a passive way, sitting on our chair, raising our hand and waiting for someone to give us the right – or wrong – answer. This pedagogical approach is based on the transmission of knowledge, and is centered on the teacher, who comes to deliver his knowledge in a unilateral way. The exchange is restricted, participation is a privilege. Beyond the inequalities that passive learning creates – and reinforces – within a class, we want to address the reasons why this method of learning is ineffective in terms of deep learning and retention of information.
At Coorpacademy, our pedagogical team, at the origin of the creation and co-edition of all the courses of our premium content catalog, relies on active learning. As you will have understood, this pedagogical approach is centered on the learner, and not on the teacher. Our quiz-based courses are based on the flipped learning method: we ask the questions, and it's up to the learner to draw on their knowledge to test their skills! Because the learner is also involved in the learning process, his or her cognitive biases are more stimulated, which will encourage attention and retention of information. From then on, the learner is committed to his training, which he sees as a real opportunity to progress, for his own benefit. 
Engaging and quality content
What differentiates Coorpacademy courses from all the other courses that you may play in your life, is the quality and relevance of the content to your training needs. Indeed, if our unique pedagogy and our functionalities borrowed from gaming are key assets to engage learners, the quality and the relevance of the content of our courses are essential for a real rise in competence.
To ensure that our courses deliver truly effective content, our educational team is still on the job. Thus, all the courses in our catalog are created by our pedagogical team or co-created with partner publishers, experts on certain subjects. Moreover, if you wish to know more about the recipe of Coorpacademy courses, we advise you to read the interview of Solène Rascle, educational engineer. Everything that is given to learn: the reading of documents, the viewing of our short course videos, and the course questions are read and reread by our pedagogical engineers, who carry out an important work of verification of sources, to ensure the relevance of the information contained in the course.
Stimulate curiosity
Continuous learning is about being curious throughout your life. Curiosity is an essential quality to progress, because if we focus on what we already know, we don't have the opportunity to evolve. So our courses are also designed to stimulate the learners' curiosity. As soon as they answer a question, a screen to explain the answer appears. Whether the answer is right or wrong, one element always appears: a "Did you know? This insert is an opportunity to complete the answer while amusing the learner with general or unusual information.
This little insert is also a way of saying to our learners: keep learning! Sure, you got the right answer, but learning never stops, there is always information that can add to your knowledge, and that's why continuous learning is essential to progress.
In conclusion, for effective learning, interaction with course content is far more impactful than interaction with a large number of courses. The more learners are stimulated in their learning, the more effective the courses will be. With the active learning mode, the cognitive engagement of learners is reinforced by the manipulation of information, or by an action on their part. Thus, their attention is required, not to say solicited. In short, it is better to have 1 very engaging course, which makes the learner interact with the learning material, than to follow 1000 courses where the only interaction is that of your mouse clicking on pause, because you stopped following what was said 10 minutes ago.