The Coorpacademy course recipe: interview with Solène Rascle, educational engineer at Coorpacademy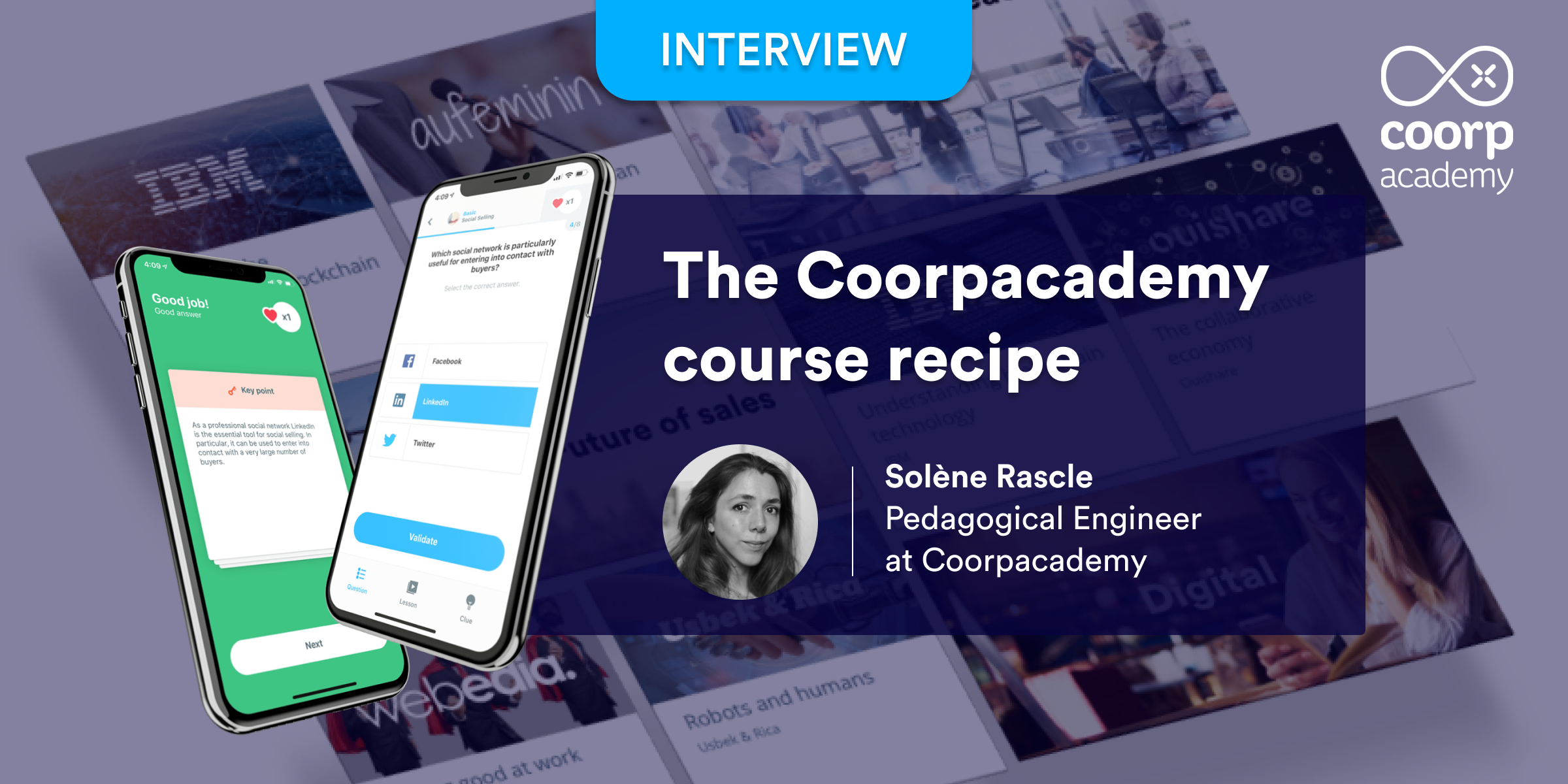 Engaging learners in their learning is one of the main missions of Coorpacademy. The objective is to enable employees to continuously learn, in order to guarantee their employability in an uncertain world and a changing job market. But how to create innovative, qualitative and engaging content? What methodology should be applied? These are some of the questions we wanted to ask Solène Rascle, educational engineer in our content team and who co-constructs the courses in the premium content catalog with partner publishers.
Not everyone is familiar with the job of educational engineer. Straddling the line between engineering and teaching, the job title can sometimes lead to confusion. Nevertheless, training engineering is evolving rapidly as it becomes more digital and as learners show an interest in diverse and innovative formats.
In this interview, discover the job of educational engineer and go behind the scenes of Coorpacademy!
To begin this interview, introduce yourself in a few sentences…
I am Solène, educational engineer at Coorpacademy! To give you an idea of my background, I have always been quite knowledgeable about education and training. I started in teaching, I have notably taught French in London or organized cultural and academic programs for international and American students in France / Paris. I have always loved learning, discovering, sharing, and as I like to invest myself in various activities, I thought I could blossom in the field of e-learning.
The job of educational engineer is not yet very well known, it is a term that I discovered myself with Coorpacademy. Could you describe the main missions of this position?
So to begin with, you can imagine that I also discovered this job by applying to Coorpacademy! In fact, an educational engineer is in charge of designing a learning path, designing courses, learning experiences, all of this to train a given public on various subjects.  Hence the name of engineer, which concerns the design, creation and implementation of training devices adapted to a public of learners, and to which is added the whole pedagogical part, so that the training devices meet the fixed pedagogical objectives.
How does the educational engineer create a course? Is there a methodology specific to Coorpacademy?
First of all, several factors can influence the way a course is created. First, it depends on the educational engineer in question, but also and above all on the target audience, the subject of the course, the objectives and the company or the partner publisher! At Coorpacademy, we have our own method for building courses. Our unique pedagogy is based on several pillars. We start by asking questions to the learner, who can then play the short course video whenever they wants. This is the principle of inverted pedagogy: the learner is involved from the beginning of the course and everyone can progress at their own pace! So at Coorpacademy, when we work on a course, we must first keep this format in mind. Then, we must also think about the fun aspect of our courses, with quizzes, battles between learners, and stars and lives to accumulate. The gamification of training invites the instructional engineer to think of these courses in an entertaining format, which makes the course and the learning experience more fun and engaging, as opposed to the classic course format, which we already know by heart. 
To build a course, you must first master the subject matter, and for that, we work with partner course publishers, or experts. We have the pedagogical expertise, but not the expertise on all the subjects we will cover in the premium content catalog, which already includes more than 1,700 courses! So, when we have to think about creating a course, we talk to those who have the expertise on the subject, our role being to take ownership of it, to understand what is at stake, to define the pedagogical objectives and the skills that the learners will have developed as a result of the course.
Could you give us a recipe for creating a course at Coorpacademy?
Of course! First of all, you will need essential ingredients: curiosity, desire to learn, a zest of humour and a good dose of rigour. As far as the recipe is concerned, I invite you to follow the following steps:
Step 1
For a successful Coorpacademy course, start by getting to grips with the subject. Once you have a good grasp of the subject on which the course will be focused, you can define the pedagogical objectives with the client or partner. These elements are crucial to building a course architecture. With this detailed plan, we will be able to think about and define which essential ideas we want to convey, in which order we want to organize the ideas, in how many chapters and, above all, in how many levels.
Step 2
Once the course architecture is ready, let it rest, the better to make the dough rise! In non-cooking terms, this means leave yourself some time to analyze the course progression: is it coherent? Is there a gradation in terms of difficulty of the questions? What format would be most appropriate to best address the topic? All these questions are essential to ensure that the pedagogical objectives are achieved.
At Coorpacademy, it is on this basis that we will then produce all the course content, making it engaging with short and entertaining videos! To remain in the analogy of the recipe, it is a bit like the cherry on the cake.
Step 3
You're almost there, but there's still a lot of preparation to do: this is the production of the videos, which are our main course materials. To begin, write a script. This writing step may require working with an editor (external or partner). Once the script is finalized in your hands, it's time to taste the dish: proofreading! And if it's not to your liking, the ideas are not clearly stated or the tone is not appropriate, make the necessary changes. Finally, it's time to cook! The videos are produced, and naturally, this step will also require you to pay attention to the final production, even if it means cooking a little longer.
Step 4
The oven is ringing! The course materials are ready and it is time to assemble them. On the basis of the courses, therefore the scripts, you will be able to write the inevitable quizzes, the Coorpacademy trademark. To make sure that the dish will be delicious, you have to put yourself in the shoes of those who will taste it! So, we put ourselves in the place of the learner, we try to vary the question formats (True or false, multiple choice, situation, illustrated questions, etc.) and to vary the situations. In fact, the hardest part is often finding the wrong answers! They should not be too obvious, nor too complicated.
Step 5
It's time for service and tasting. Everything is ready. Put it on the plates, or rather, on the Coorpacademy client platforms! Then, after the final proofreading and uploading, it's time to play the course of our colleagues, and to get some good practices and feedback from them.
What about custom courses, i.e. courses tailored to our clients' topics?
For custom courses, the same production process and methodology is used. The steps of the recipe remain the same. The only difference will be in the subjects. Often, with custom courses, we will deal with subjects that are more specific to a sector, an industry, a customer need – and for a more precise target: learners from the same team, from a specific profession, or who already have a certain level of knowledge on the subject. The first step, which consists of taking ownership of the subject and defining the client's training objectives, will also be defined by the theme that the client wishes to address. Then, it is the CSM team that takes over the cooking, by the way, discover the CSM job in this article!
What do you like most about your job today?
Beyond the fact that I really like Coorpacademy and my colleagues with whom I get along very well, what I like most in the work of an educational engineer is the multitude of subjects that I have to deal with. I learn every day and interact with a variety of people, so I never get bored! I also like the challenges that it can sometimes represent and the intellectual stimulation that it provides to think together about well thought-out course paths for learners.
Do you have any courses that you prefer to work on?
Overall, all subjects are interesting to work on, but if I have to name one, I would choose sustainable transformation because it is a current topic and because it is urgent to act! But in itself, all topics interest me. What will matter most to me are the courses that require different formats. It's kind of fun to work on innovative formats, and then I like the reflection that it requires to build the course. Innovating, thinking, putting yourself in the shoes of the end user/learner to make the learning experience as pleasant as possible, always with the pedagogical objective in mind. Finally, I think that what stimulates me is to create, to do new things and especially when we invest in subjects that seem classic but are nevertheless unavoidable.
Could you describe a typical day for you?
I don't have a typical day in the sense that, as we manage several projects or several partners at the same time, I am constantly developing my agility! Switching from one subject to another, from partner X to partner B, managing emergencies: my typical day is ultimately a mosaic. On the other hand, there are tasks that are constant and cannot be ignored: reading sources, books, proofreading and writing scripts and quizzes, and finally, a lot of spelling and typography work. It's a job that requires both work and dedication upstream of the publication of the course, but also downstream because it also means following the feedback (from learners, customers, partners) to improve ourselves, perfecting our content so that it is as qualitative in content as in form!
Do you have any advice for those who are interested in becoming an educational engineer?
Among the ingredients of the recipe, you can't do without the two main ones: stay curious and keep learning! Curiosity is one of the primary qualities of an educational engineer. You have to be willing to learn about all subjects, even those that don't necessarily speak to you at first. From a more pragmatic point of view, there are more and more training courses for educational engineers, and I think that this can be a good way to discover this profession! But any experience in education, training, writing, or publishing are interesting experiences to have in this position. Finally, and not surprisingly, I would advise sleeping with a Bescherelle on your bedside table, because you need to have impeccable grammar.

And finally, a little quiz: If you had to choose between these 3 new courses in the catalog, which one would you choose and why?
The new Trivial Pursuit courses
The "Making Better Decisions with Game Theory" course
The "Preventing Discrimination and Encouraging Diversity" course co-published with Wolters Kluwer
I would say Trivial Pursuit because it is a perfect course for summer and vacations! Trivial Pursuit is 30 questions to learn while having fun, while developing one's general culture and knowledge of certain subjects. Moreover, at Coorpacademy, we provide you with an explanation of the right answer and a "Did you know?" as a bonus, unlike the classic general knowledge game. Frankly, a course played on the phone at the beach with your friends or your family, it is still the best way to learn in a fun way and with others!