Audio learning is the way to go: a new exclusive partnership between Coorpacademy and Bookboon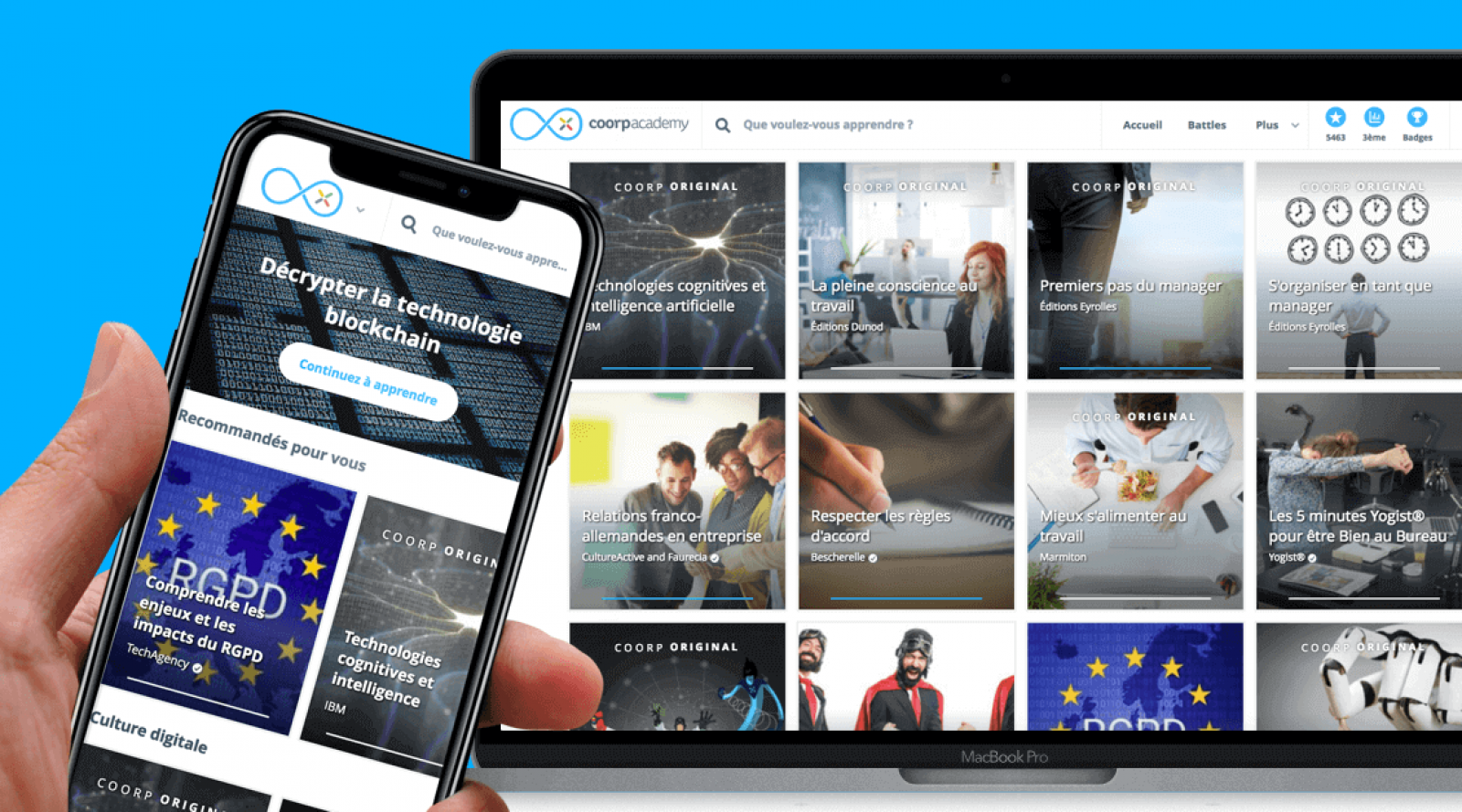 Bookboon, the world's leading publisher of ebooks and audio learning for professionals, and Coorpacademy, an EdTech startup offering smart learning experience platforms to one million learners, signed an international distribution deal. 
As almost 100% of in-house training is cancelled or postponed, continuing to invest in online training is a major challenge in these uncertain times. However, a new way of consuming online content has recently taken off: podcasts. Audio content, avoiding the fatigue of the screen that has become omnipresent, is experiencing an unprecedented boom and its use is becoming part of everyone's daily life. According to the Voxnest report conducted last year, podcast listening increased by an average of 53% in Europe in the first half of 2020, and this trend is to continue in 2021.
Enabling employees and companies to use audio formats as well for their training is one of the reasons for the partnership between Bookboon and Coorpacademy. Learners on the Coorpacademy platforms can benefit from a complementary offer of more than 3500 content items, available for listening (audiobooks and podcasts) and reading in 12 languages, available for listening (audiobooks and podcasts) and reading (eBooks). With topics such as Remote Working, Personal Efficiency and Teams & Project Management, these courses, are developed for the business world and its transformational issues. 
In addition to Coorpacademy's exclusive catalogue dedicated to soft skills, learners can access Bookboon's premium content, as explained by Armelle Lavergne, Coorpacademy's Head of Content :
"Diversifying learning methods in order to offer content in a variety of formats, adapted to everyone, is one of our strategic development axes. With the audiobooks and talks published by Bookboon, our learners will be able to access quality knowledge from the leading European publisher of ebooks for professionals".
Kristian Buus Madsen, CEO of Bookboon, adds: 
"Coorpacademy delivers an effective and intelligent digital learning experience. Bookboon Learning completes this offer with highly relevant eBooks and audio titles for all situations in a busy learner's day – eBooks for learning at a desk and at home and audio content for on the go. Learning content needs to be even more flexible, focused and bite-size these days – to adjust to the changing business environment and the challenges of working and private life. This is where Bookboon's and Coorpacademy's partnership plays off."