Coorpacademy announces a partnership with 7-Shapes to learn the main principles of Lean Management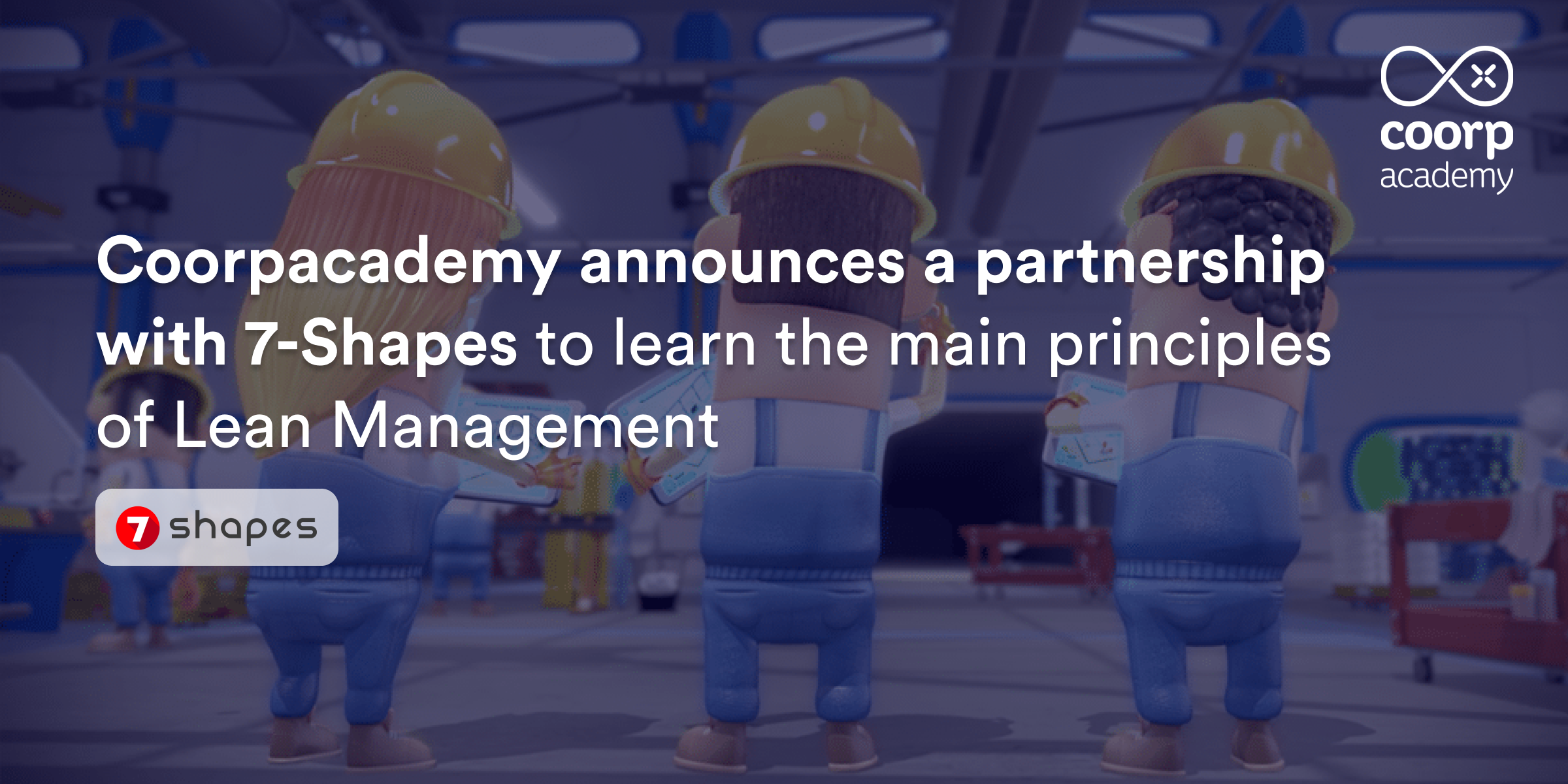 7-Shapes, through its 7-Shapes School offer, the 1st interactive training offer in Lean Management, 100% online and accessible to all, and Coorpacademy, an EdTech start-up offering intelligent learning experience platforms to more than one million learners, announce a partnership to train employees in Lean Management.
Lean Management is a work organization philosophy based on collective intelligence and aimed at improving a company's performance. Invented by Toyota in the 1970s, this philosophy has led to the creation of numerous methods and tools that offer many advantages: elimination of non-value added, reduction of excessive inventories, improvement of deadlines, quality, and greater agility thanks to the involvement of all employees.
While most of the world's large corporations have a Lean approach (also called Continuous Improvement or Operational Excellence), the training and application of Lean Management remain complex to organize. Indeed, traditional Lean training courses are often face-to-face, time-consuming and costly, and most of the time they are only aimed at managers and engineers. However, one of the foundations for the success of an operational excellence approach is that it be carried by all employees. 7-Shapes takes up this challenge by making Lean Management training available to everyone!
7-Shapes School offers a practical, fun and engaging solution to Lean Management training, whatever the learners' level. The learning paths are composed of modules that are unlocked as the learner progresses. For the theory part of Lean, the 7-Shapes School includes motion design videos, interactive lessons and quizzes. But the specificity of the 7-Shapes School lies in its challenges and mini-games, exercises based on an interactive business simulation. These exercises allow the learner to put his knowledge into practice and encourage him to take action in the field, on a daily basis.
In order to train all employees in Lean in a fun and efficient way, Coorpacademy offers with 7-Shapes to integrate these interactive training simulations on Lean Management, directly on the learning platforms of its customers. This new option, in the form of an add-on, enriches the "Premium Content Hub" offer with high added value for the increase in competence of all the employees and the development of their employability.
In addition to this, Coorpacademy will enrich its content catalog by proposing two courses co-edited with 7-Shapes to understand the history of Lean Management and to learn the basic concepts of operational excellence.
About Coorpacademy
Founded in 2013, Coorpacademy is a European startup member of the EdTech France association, specialized in innovative and scalable digital learning solutions. Based in Paris and in Lausanne at the Swiss EdTech Collider of the Swiss Federal Institute of Technology (EPFL), Coorpacademy is at the heart of research on new learning methods. With its platform, Coorpacademy accompanies the transformation of companies by engaging their collaborators, partners and customers in their rise in skills. To unleash this desire and desire to learn, Coorpacademy has developed a proprietary Saas platform based on innovative pedagogical engineering supported by the EPFL innovation laboratories and exclusive content focused on soft skills. The result: a more fun, flexible and collaborative learning experience, focused on the learner.
About 7-Shapes 
7-Shapes is a training start-up founded in 2017 that creates and publishes 7-Shapes School, a performance training course offering based on a business simulation, a fun and operational way to effectively learn the principles and tools of Lean Management, Agility and Supply Chain.
7-Shapes offers its courses in the form of licenses that can be used by consultants, trainers or Lean managers to train all company employees.  Many schools also use the 7-Shapes School to train their students. Most of the 7-Shapes courses also lead to hybrid training courses that can be certified and are eligible for CPF, OPCO, FNE, regional funding, etc. More than 5000 people have already trained with 7-Shapes School and the satisfaction rate of the solution on the CPF is 4.86/5.