Computational Thinking Will Be Vital For The Future Job Market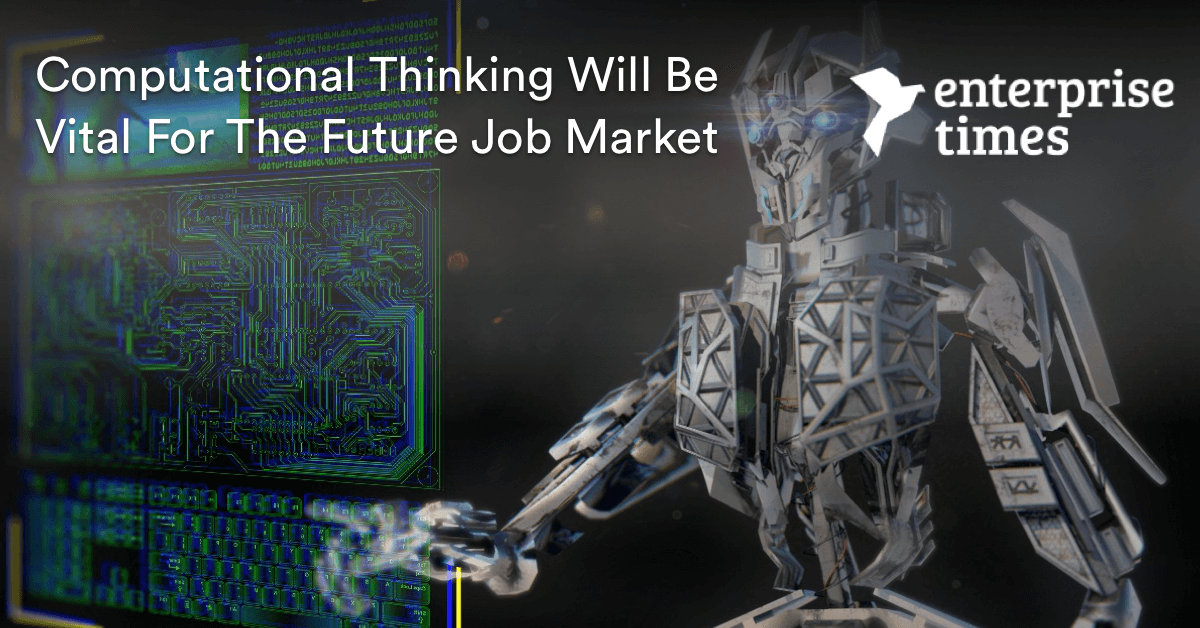 This piece has been written by Jean-Marc Tassetto, co-founder of Coorpacademy, and originally published in Enterprise Times. To read it in its original form, it's here!
Computational Thinking is running fast through every avenue of modern business. Jean-Marc Tassetto looks at why this skill is crucial in today's increasingly data driven organisations
Computational Thinking (CT) is used in the design and analysis of problems and their associated solutions. It is rapidly establishing itself as the literacy of the 21st Century as digital technologies become the core of the workplace.
Business is being disrupted, which will have a huge impact on the employment vista in the coming years, according to the World Economic Forum's (WEF) 2016 Future of Jobs report. Developments in artificial intelligence (AI), robotics, 3D printing, nanotechnology and biotechnology, amongst others will change the face of the workplace as we know it. This will significantly affect job creation as well as job displacement. On average, by 2020, more than a third of the desired core skills sets for the majority of occupations will be comprised of skills we do not consider crucial at present, according a WEF poll.
With a rapidly evolving job market it is paramount we prepare for future skills requirements and job content at individual, organisation and government levels. As advanced robotics, autonomous transport, AI and machine learning take over, future workforces will need to concentrate on so called 'soft skills' – in other words personal attributes such as persuasion, emotional and social intelligence.
Employee skill requirements are evolving
Skillsets will need to be in tune with the digital age. Not looking to address these issues over the coming years could result in large economic cost to businesses, according to the WEF. It isn't just coding skills that organisations will need. Cloud, analytics, mobility, security, IoT and blockchain will all require the right skills to make them effective. Technical projects rarely happen in a vacuum, so non technical skills will also be important such as leadership, negotiation and communication, together with social and environmental responsibilities.
A learner-centric approach
In response, organisations must continually invest in training that will provide the right skills going forward – that means both technological advancement and soft skills. Training needs to reflect the way people now consume content. Instead of the marathon training sessions of the past, short bursts of training, as needed and always on, are the way forward. They also need to be made available on mobile devices so staff can learn on the move, where and when they want.
Gone are days of rigorous fixed hours, classroom style learning. Instead, to maximise learning and easily measure success, content needs to be placed online in an intuitive virtual learning environment. This way people can take responsibility for their own training and career development and are thoroughly engaged.
Not only computer scientists
And on course content, this is where CT comes in. CT isn't just for computer scientists, it is a broad, structured way of looking at a problem. It is basically the approach we take when we consider how a computer can help us to solve complex problems. We aren't just looking at what the computer does in terms of algorithms and abstractions, but also the various strategies that we can implement on digital systems. This involves breaking down problems into various parts as well as designing and using models and defining abstract concepts.
Even if a person doesn't know how to program or code a computer – being able to think through a problem in a similar, logical manner and come up with a solution in the digital world is paramount. Designing a user journey for a retailer, for example, today requires breaking it down simple steps to put into algorithmic sequences.
Forward-thinking policymakers
CT is so important to enhancing efficiencies and innovation that governments have started to spotlight CT in their re-skilling roadmaps. In the US, the National Research Council, is ahead of the curve, working on CT for the past eight years. The Carnegie-Mellon University has a Microsoft-sponsored Center for Computational Thinking to advance computing research and computational thinking to improve society.
In Europe the Federal Institute of Technology in Lausanne, Switzerland has introduced CT modules. In addition, the Open University is also running introductions to CT, for example. The National University of Singapore has gone a step further and made CT compulsory, regardless of what course they are studying.
21st century business needs CT
CT will be core to future job opportunities. As technology becomes more sophisticated and pervasive we need to understand how to collect data, filter it. We also need to know where to find what we want and how we can use it in decision making. People need to be confident enough to face problems head on and have the ability to work out logical solutions. CT is the flexible tool that provides a consistent and straightforward problem solving technique.
Increasingly we are finding ourselves collaborating with technology. To ensure that people can deal with data in all its increasing complexity, it is imperative that organisations and their staff from the top down are au fait with CT if they are to flourish in the new age of digital intelligence.
This piece has been written by Jean-Marc Tassetto, co-founder of Coorpacademy, and originally published in Enterprise Times. To read it in its original form, it's here!