Improving workplace e-learning for employees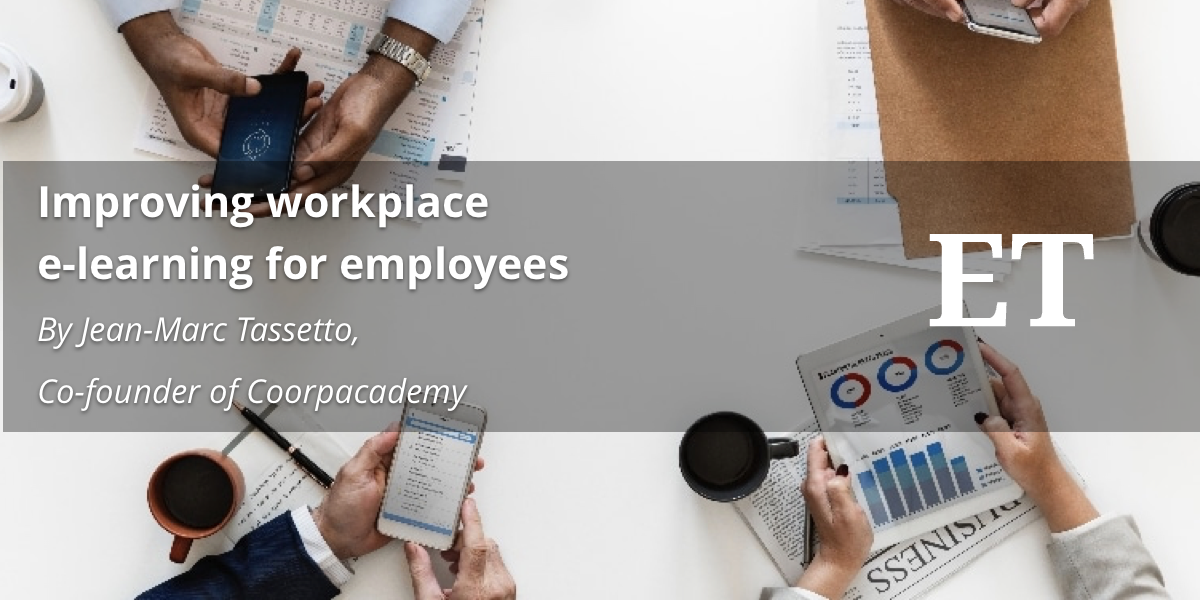 This article written by Jean-Marc Tassetto, co-founder of Coorpacademy, has been originally published in Education Technology. To read it in its original form, it's here.
Coorpacademy co-founder Jean-Marc Tassetto discusses workplace learning, and why technology is essential in supporting employee upskilling.
Sapiens author Yuval Harari has written that the kinds of skills we need in the workplace are radically shifting, with Artificial Intelligence (AI), bioengineering and other emerging technologies making both our lives and what we do between 9 to 5 look very different.
In his latest book, 21 Lessons for the 21st Century, Harari is also now warning us that the future of education is going to be as equally disrupted, given how young people already have far too much information, and that what's needed instead is to coach people in "the ability to make sense of information, to tell the difference between what is important and what is unimportant, and above all to combine many bits of information into a broad picture of the world."
Of course, it's not just futurologists like Harari who are warning the training sector change is afoot. Another is learning industry analyst Edmund Monk, who warns that "The current school student sees learning now as not being about fact retention, but synthesis and analysis of those facts," and that A-level students will soon be allowed to take their smartphones into their final examinations, as we move away from memory testing into synthesis challenging.
Whether or not that really will happen that soon, surely what we can agree on is that the whole concept of skills, as well as the more crucial question of which ones really matter for employer now and in the near future, is under the microscope.
The rising value of the soft skill
As we continue deeper into the new century, 'soft' skills such as critical thinking, communication, working better with other people and creative thinking will end up more in demand, in contrast to the 'hard' skills and technical skills that are more reliant on fact-retention.
Indeed, occupations that rely on such soft skills may account for two-thirds of all jobs by 2030 according to Deloitte, while the Manpower 2018 Talent Shortage Survey underlines how transferable soft skills are gaining greater importance, with more than half of employers saying communication skills – written and verbal – are their most valued employee attributes, followed by collaboration and problem solving.
Another study, the World Economic Forum's recent Future of Jobs study, gives us even more clues as to we can expect. Creativity is one of the top three skills workers will need, it says, and while robots may help us get to where we want to be faster, they cannot as yet beat humans at creative tasks. (Intriguingly, emotional intelligence, an attribute that did not feature in the top 10 in its last (2015) report, has somehow become one of the most desired skills needed in the workplace.)
Learning and Development (L&D) leaders need to accelerate their efforts to upskill and reskill employees – plus say goodbye to long, boring training sessions that are too general to be personalised.
The critical question, then, is how organisations will learn or re-acquire these increasingly desirable new capabilities? Learning and Development (L&D) leaders need to accelerate their efforts to upskill and reskill employees – plus say goodbye to long, boring training sessions that are too general to be personalised, and not at all engaging to today's learner.
The LXP difference
The good news is that a new generation of digital tools is making training relevant and exciting, delivering what the learning organisation of tomorrow says it will need: the learner at the centre of the learning experience. There is undoubtedly a shift happening from an administrator-centric approach to one of a learner-centric approach, or a Learning Centric Platform (LXP or LEP). For example, analyst group Gartner defines an LXP as an additional portal layer that simultaneously expands (i.e. range of content) and enhances (i.e. delivers greater personalisation) the learner's interaction.
Given how, when done well, such LXPs provide "a better learner experience through improved personalisation via adaptive learning, recommendations and individual learning paths," it's clearly time L&D leaders heeded the cue to get the learning experience back to the top of their list when they think about education technologies.
They also need to re-think training to be more like what people really want to engage with now – think, content that is diverse, interesting and very easily accessible, mobile, always on, always available – delivered in engaging, bite-sized chunks that are engaging and fill gaps in knowledge where they exist.
And, where appropriate, L&D teams should exploit the engagement potential of techniques like gamification, online competitions and quizzes between learners. Neuroscience has shown us that playing stimulates curiosity and the desire to progress, for example, as 'play' in the widest sense creates a positive, reinforcing learning experience.
To be successful, a modern workplace learning experience should be deeply integrated with a job position and be directly useful to the learner. Microlearning is a very powerful way to make this happen, and should therefore be well integrated into the learning experience, allowing the employee to directly look for the knowledge she really needs before a meeting, for example. At the same time, the contribution of wider communities of learners should not be underestimated; the ability to interact and measure up to others increases learning capacity.
As a result of the kind of dramatic employment changes people like Harari and organisations like the World Economic Forum predict, it is becoming essential we all examine our long-term employability. Businesses who let up-skilling their staff fall by the wayside because they haven't revisited training technology requirements will find themselves in a perilous position going forward. So now is the time, perhaps, to think again about your whole position vis-a-vis technology for training.
Source : Education Technology, Sunday 11th November 2018. Discover the original article here: https://edtechnology.co.uk/Blog/improving-workplace-e-learning-for-employees/