Computational thinking: a key skill in the 21st century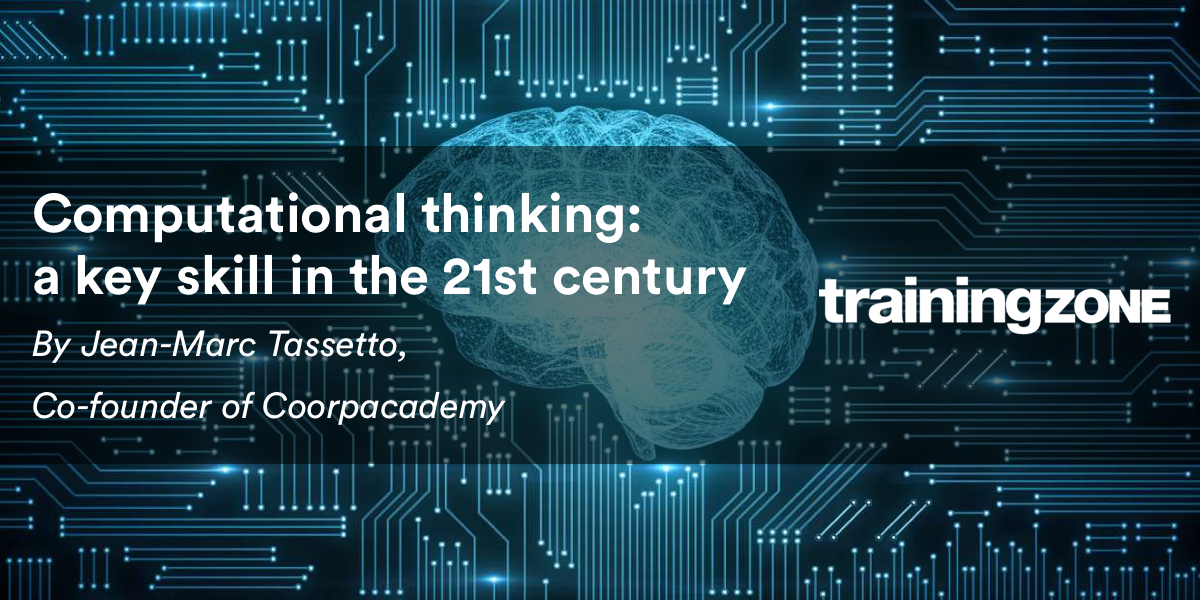 In a world increasingly dominated by automation we need to equip employees with skills that complement computer technology and learn to work in partnership with robots.
Jean-Marc Tassetto, co-founder of Coorpacademy, wrote this new piece published in TrainingZone, the UK's leading learning & development publication. As employees will need to have abilities that complement digital technology in the future, bringing a computational/programming-like approach into all of our approaches to work will be become a must-have 21st century skill to thrive in the Fourth Industrial Revolution.
Discover the complete article here! 
Here are some extracts of the article.
"In the decade since computational thinking (CT) was first formulated by then Carnegie-Mellon Professor Jeannette Wing, it has been emerging as a really powerful universal problem solving technique, in particular for helping us all to work better with automation technologies.
Hence Stephen Wolfram, inventor of the plain English Wolfram programming language, and an advocate of early years computer science, defines the approach as being"about formulating things with enough clarity, and in a systematic enough way, that one can tell a computer how to do them."
[…] 
"So could CT [Computational Thinking] be the way to bridge that gap between hard and soft skills? Yes, because not everybody will be in need of hard programming proficiency. 
This could mean skills associated with the cloud, analytics, mobility, security, IoT and blockchain. There is also growing consensus that we have to introduce a computational/programming-like approach into all of our approaches to work. 
After all, topping the list of the World Economic Forum's recent list of essential skills necessary for thriving during the Fourth Industrial Revolution is the skill of 'complex problem solving.'"
[…]
"What does this look like in practice? Let's say you've agreed to meet your friends somewhere none of you have ever been before. You would plan your route before you step out of your house. 
You might consider the routes available and which route is 'best' – this might be the route that is the shortest, the quickest, or the one which goes past your favourite shop on the way. 
You'd then follow the step-by-step directions to get there. In this case, the planning part is CT, and following the directions is like programming."
Discover the full version here on TrainingZone's website.
And discover other pieces from Jean-Marc Tassetto:
Improving workplace e-learning for employees.
Is e-learning about to go through a major transformation?