Why Training Is an Under-Used Source of Employee Insight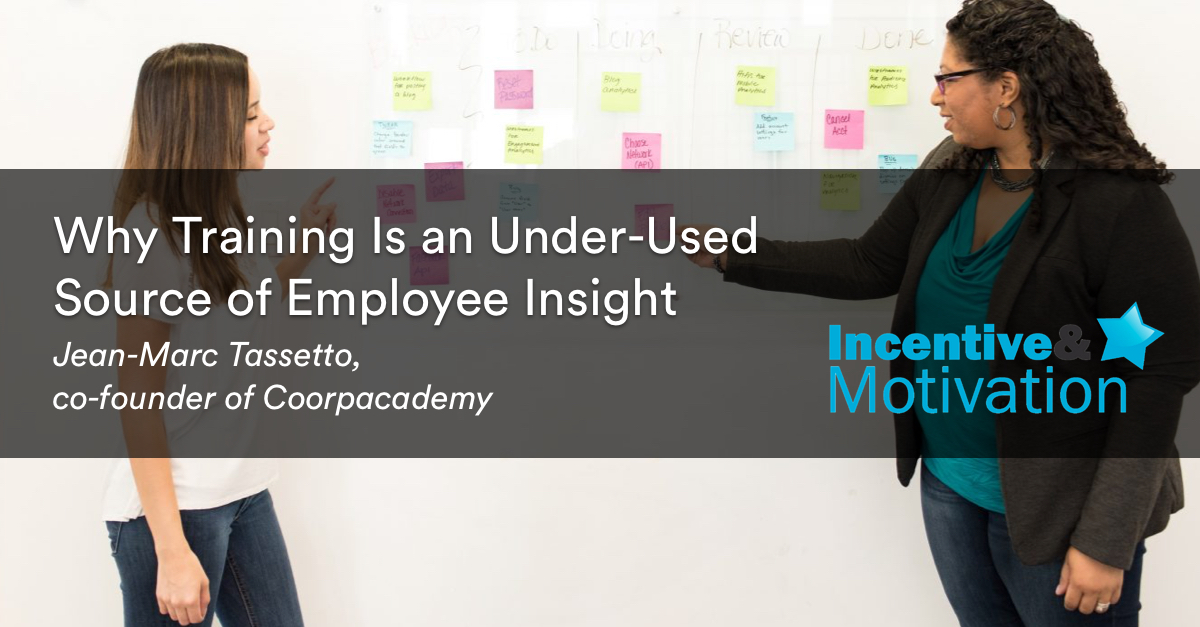 This article was written by Jean-Marc Tassetto, co-founder of Coorpacademy and former Managing Director of Google France, and originally published in Incentive & Motivation. Incentive & Motivation magazine offers the latest news in incentives, employee rewards, employee engagement, motivation and employee benefits. Distributed to HR, Sales and Managing Directors with key industry senior incentive level incentive buyers.
Here are a few extracts of the article:
Co-founder of Coorpacademy, Jean-Marc Tassetto, outlines how new training analytics could offer unexpected help to HR professionals

Training is, as we know, a key source of workforce engagement – an important component of helping employees feel a real sense of belonging and identification and a tangible way to underline your commitment to their future learning and development as their employer.
[…]
Up until recently learning analytics only existed in a very partial way. That was because the dominant training technology we've been using – the Learning Management System (LMS) – managed access and tracked participation of learners, namely the attendee list and the scheduling of trainer time, but little else.
The LMS might offer information on content downloads, task completions and module completion, but the data was very thin to say the least. What's changed in this picture is the debut of a much more flexible and useful L&D technology tool  – new-style Learning Experience Platforms (LEPs), as recently formalised as a separate market category by Gartner.
What's different about the LEP contribution, as opposed to the LMS support idea, is that they are all about the learner experience – being highly user-centric in their delivery model and usability. Less well-known is the fact that some of the most advanced have revolutionised the analytical possibilities for L&D professionals because LEPs track delegate behaviour and tests what works and what doesn't (based on internal new ways of collecting data such as the xAPI).
[…]
What this means in practice is that the HR or Chief Learning Officer is increasingly the recipient of data-based insights and gets to exploit all sorts of new types of insight – not only what someone has learnt, but how the learner got there and which learning approach they chose. This opens up the possibility for new performance indicators, such as Curiosity, or Resilience – both hugely valuable HR metrics. And of course, this will ultimately aid the workplace learner – as the learner become aware of what her own data says about her progress and experience so as to ensure long-term employability.
The transformative potential of these new indicators is even greater if you consider that the World Economic Forum identified re- and up-skilling of the current workforce as the number one strategy companies need to embrace in light of our continuing transformation into a knowledge economy. Knowledge, in the Google age is easily acquired, curiosity on the other hand seems less ubiquitous, and many commentators believe we need to boost employee curiosity as well as to build greater resilience and adaptability to change.
[…]
So let's help prepare our teams for this uncertain but dynamic future and see what LEP and xAPI-enabled training feedback and KPIs can give us: a new source of analytics that means that HR professionals and incentives professionals can use multiple, appropriate, data sources to properly consider the full candidate potential of a person for a specific job – not only in terms of their knowledge and skills, but also their curiosity and aptitude for change. Not only are these traits important ones to cultivate, but they are also important ones to keep."
You can read the entire article here.
You can also read these other articles from Jean-Marc Tassetto.
Jean-Marc Tassetto's interview for French television (BFM Business).
Is LXP the new LMS – Enterprise Times
Computational Thinking: a key skill in the 21st century